Britney Spears Shopping at Kitson at 2 am
Britney's Night of Arrests and a 2 a.m. Shopping Spree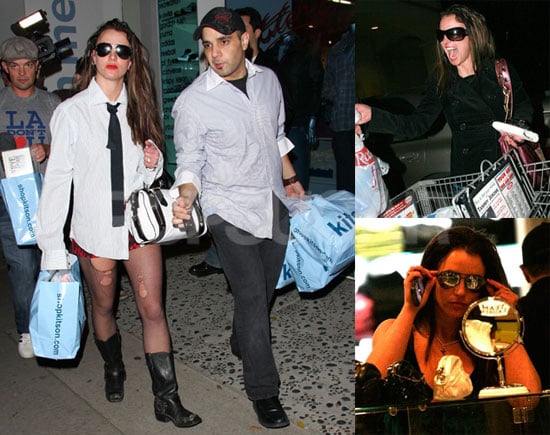 0
Britney's Night of Arrests and a 2 a.m. Shopping Spree
The cops were making arrests surrounding Britney Spears last night, but thankfully the pop tart herself wasn't one of the people carted away. Instead, eight paparazzi were pulled over (along with Britney herself, who did have a valid California license and was let go), four of whom were arrested for driving erratically while trying to stay on top of her bizarre night out. At about 11 p.m., Britney headed out grocery stopping with Sam, where she told the paparazzi that the mystery pregnancy test was for a friend (um, someone's been watching Gossip Girl). Then, around 2 a.m. . . . she decided she wanted to go shopping at Kitson, so of course she had the store open up for her.
To read more about what happened, Sam's take on the events, and also to see what Kevin's lawyer is saying about the custody situation, along with more pics of Britney's night out just
.
Britney, Sam, and his friend Chad (the blond) did some damage to her credit cards at the womens store before driving a block to Kitson's mens store where they all picked up some goods, including Britney who wanted T-shirts to wear as dresses. From there it was home, with a big orange beverage in hand, and when a paparazzi asked her if it was a screwdriver she said yes. This morning while Britney ran around upstairs, Sam called into Seacrest to talk nonchalantly about the whole thing. Naturally. He chalked the whole thing up to boredom.
Meanwhile, Kevin's lawyer talked to People about how hard and not ideal the whole situation is. He said, "Kevin wants nothing more than to be able to parent his children with participation by their mother, but the best interest of the children requires that they be in the most sound, safe, nurturing, and consistent environment. That is paramount. . . . [Kevin] is committed to trying to fill any void by him being there at all times for them in any way. He can't replace their mother in their life, but he is going to try to minimize the hardship."