Britney Is Still Being Britney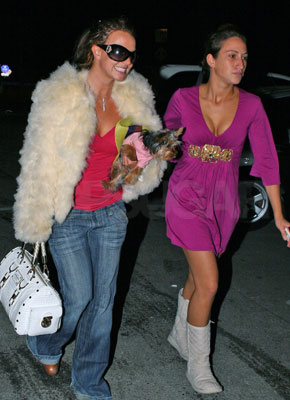 After spending a typical errand-filled day, Britney grabbed London and wrapped herself in another, uglier furball for some dinner with her new buddy/possible assistant. She may have taken a step in the right direction by turning herself in to the police, but Britney's legal troubles are far from over and there was even another custody hearing today with her and Kevin's lawyer.
Britney was also caught in a less than tactful moment while shopping at Neiman Marcus last week. Apparently she was overheard complaining that her judge is an "old fart" who didn't respect her. She also wanted London sent via messenger because she didn't feel like going all the way to Malibu to get him. Sounds a bit ridiculous, but LA traffic can be a b*tch. As for the judge, Britney needs to learn to respect him or she'll never get those boys back.