Britney Wakes up for Ryan Seacrest Interview
Start Slideshow
ADVERTISEMENT ()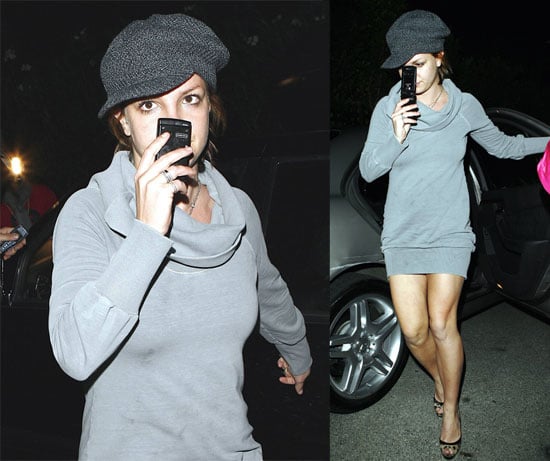 0
Britney Wakes up for Ryan Seacrest Interview
Britney Spears kept her plumped lips covered on her way into a friend's house wearing a surprisingly modest gray sweater dress last night. In fact, by Britney's standards the night of her record release was pretty low key, perhaps made a little more somber by the news about her boys yesterday afternoon. This morning she was up fairly early, however, to chat with Ryan Seacrest...begrudgingly. The audio is below, but suffice it to say that Britney does not have a whole lot of management telling her what to say in interviews these days.
There are a lot of "huh?" and "what" (partially due to bad cell phone reception), but the worst moment for me was when Ryan asked how often she's going to be able to see her kids and she obviously didn't know, instead saying that her "lawyers handle all that stuff." Ugh, there are millions of people who could answer that question better than her. She also said that this was the extent of her album promotion before handing the phone to Allie to jump in the shower. Give it a listen yourself and tell me what you think.
On Air With Ryan Seacrest interview with Britney Spears
In other Britney news, another of her old assistants has decided to sell tell her story, this time to Us Weekly. She was there for Brit's break-up with Kevin and has all sorts of personal details to share about Britney's breakdown. Ugh, shut up.