Britney's Weekend Didn't End With Friday Night's Haircut
Britney's Weekend Didn't End With Friday Night's Haircut
How 'bout that Britney Spears, eh? Wow. So we're still trying to sift through all the gossip on the days leading up to the singer's return to LA, and what Britney's been up to since her Friday shearing session. As it turns out, her plans weren't to stay at home with the kids. Here's a little bit of what we've been able to piece together. One source says that last week, after finding Britney incapacitated and sprawled out on the floor mid-day, Lynn Spears basically forced Brit to check herself into the rehab center where she ended up only staying a day. Britney then frantically boarded the only plane she could get back to LA before getting into a huge fight on the phone with her mother and rebelliously shaving her head. Whew..and that's only the beginning.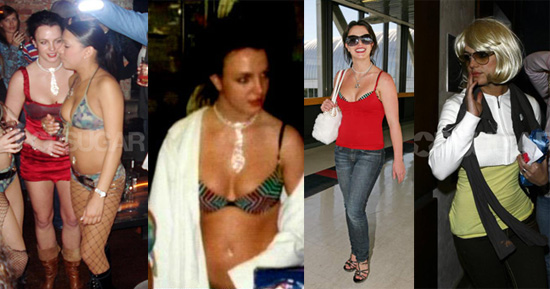 Both of Brit's parents are in LA with her now, and she has been seen dining with her father while wrapped up in intense discussion at least twice. She has also been spotted in multiple wigs at multiple clubs reverting to the habit of spending lots of time in the bathroom stalls. She also is rumored to still be staying out of the house at a Hollywood hotel.
The most disturbing report of all, however, is of Brit's attempts to check into the Mondrian hotel in Sunset using only a piece of paper with a partial credit card number, appearing intoxicated, and proceeding to try to shave her legs at the pool. All the while she was repeating over and over again "No One Wants Me."
Aaaand finally, Britney is selling the new house she just bought because Sean Preston prefers Malibu. You know how preferential and finicky one-year-olds get after all. I wonder if she took Jayden's opinion into account, too.
Clearly, the situation with Britney is more serious than any of us know. Hopefully she will be able to get the help she desperately needs before anything gets any worse.