Brooke Burke is Baby Bound
Brooke is busy getting ready for her baby with her fiance and Baywatch alum David Charvet. We think she looks fabulous, but Brooke says she's not feeling very glamorous at this stage in her pregnancy. The soon-to-be mother of three will also be sticking close to home for the holidays. People reports: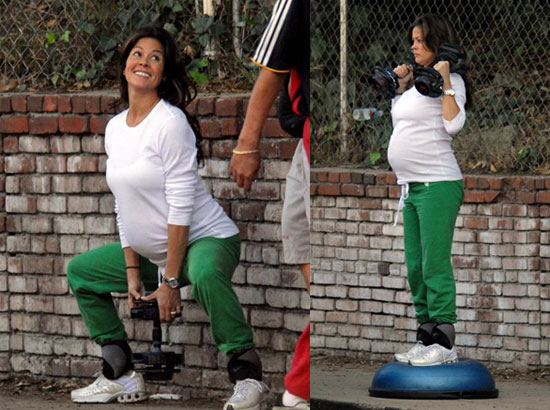 "I'm getting ready to have my baby, so I can't go anywhere, I can't do anything," Burke told PEOPLE at the Los Angeles Ballet's debut of The Nutcracker in Beverly Hills on Saturday. "I'm just kind of waiting it out – not strictly at home, (but) no skiing and no vacations this year. Just waiting for baby."

"I'm just trying to maintain my lifestyle, and to stay healthy and exercise and kind of embrace the time," Burke says. "It's not the most glamorous time for a woman. But right now, it's much better than it used to be. I think there's a lot of great fashion for pregnant women now. It's a beautiful time because you can really feel good in your skin during your pregnancy."
Brooke also says she's moving slow on her wedding plans. Check out more info on Brooke's work out routine. For more of Brooke with her trainer in Malibu just read more