Brooke Keeps Busy Waiting for Baby
Brooke got some last minute shopping done at The Grove in LA this week with her daughters Neriah and Sierra Sky. Her third pregnancy is a little more difficult than the first two but that doesn't mean she isn't staying active. She's keeping busy with lots of exercise and taking care of her two girls. It's just going to be the three of them for a while as fiancee David Charvet is off to Morocco for a film project. People reports: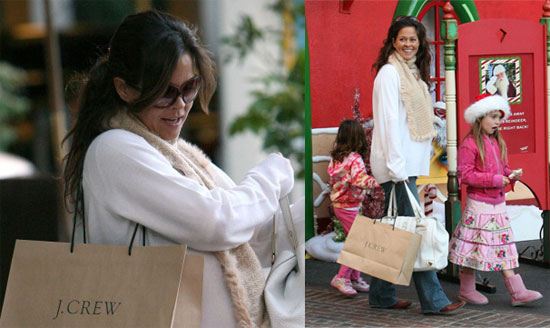 Burke's preparation for her third child's birth is "not really" different from the others," she says. "I had a really good pregnancy the first two times."

Burke says she's "Just working out and trying to eat healthy. (It's) a little harder the third time, but not bad."

Charvet won't be home for long, she also says. "He's getting ready to go work on a film in Morocco. I'm hoping that the timing is going to work out right for the baby. He'll be there for a couple months. But he'll be home for the birth – that's good."

As for wedding planning, that's going slowly, for now. "We're just going to wait for the baby and not stress ourselves out planning the wedding. Then try to do it as soon as possible," Burke says.
Hopefully David will make it back in time for the baby! For more pics just read more