Brothers & Sisters Coming to Your Living Room
Brothers & Sisters Coming to Your Living Room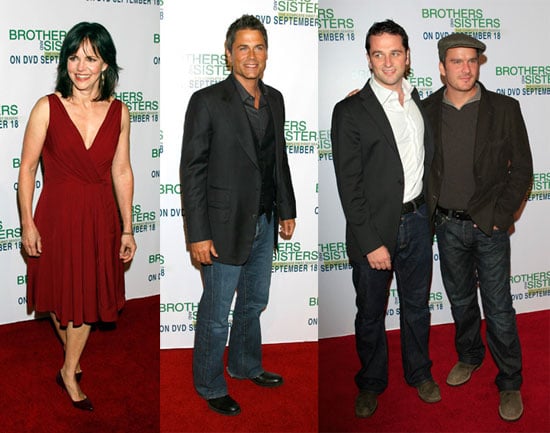 0
Brothers & Sisters Coming to Your Living Room
Last night the cast of ABC's Brothers and Sisters came out to promote the DVD release of Season 1. You still have time to catch up on the show since the new season doesn't begin until September 30th. Balthazar Getty mixed with a little Rob Lowe (who is looking a bit wee orange) and the cute Dave Annable makes for some easy on the eyes entertainment. While the men are fun to watch it's the talented ladies that keep us coming back. Sally, Calista and Rachel Griffiths are such a pleasure to watch working together. EW had a chance to talk to Sally and Rachel about how the show limits what they can do on film but apparently these ladies don't seem to care. They said:
Rachel: "I don't give a f***! I'm like, You know what? I've just work the hardest year of my life. I have 2 kids under 3. I don't want to read a script. I don't even want to think that being on a hit TV show is not enough. I'm playing a role that I get to explore every part of me: myself as a mother, as a sister, as a daughter, as a working woman. There's no part of me that's not getting exercised."
Sally: "I don't give a f***! [Laughs] You know, the truth of the matter is we have so little time off. I feel the same way, "Please, God, don't let anything come my way!" We worked last year 10 months straight...I think television right now is exploring more relationships and people things than film is. I don't really have a desire to stand there and not be acting."
Many TV actors would never dream of putting that out there in the press. B&S includes such a great ensemble cast with such compelling writing we can see why the characters are fulfilling enough.
For more of the gang from Brothers and Sisters just
Images include Sally Field, Rob Lowe, Patricia Wettig, Roxanne Olin, Dave Annable, Emily Van Camp, Sarah Jane Morris, Ron Rifkin, Matthew Rhys and Balthazar Getty.