Bruce Jenner Olympics
Bruce Jenner Before He Was Kris Jenner's Ex
Bruce and Kris Jenner announced their separation Tuesday. As anyone who lived through the '70s or watches Keeping Up with the Kardashians knows, Bruce Jenner was a gold-medal decathlete before he met the Kardashian matriarch manager. He loves to remind his family and viewers of his Olympian past, and his own website calls him the world's greatest athlete, a nickname he earned during the 1976 Olympics in Montreal, where he set a world record and became an American sports hero.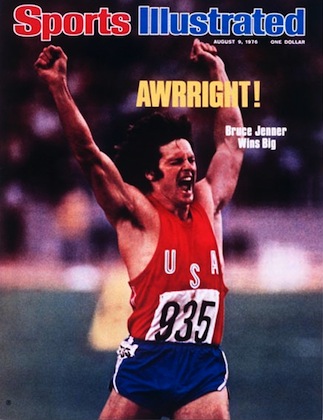 In an August 1976 cover story, Sports Illustrated predicted Bruce Jenner would be one Olympian who could maintain publicity past the the Olympic games. Soon after he won the gold, he also won endorsements from Wheaties and London Fog, and even acted, appearing in CHiPs. While he endures as a celebrity almost 40 years later, I'm not sure the 1976 sports editors could have imagined that Bruce's tabloid fame would look like it does in 2013.
"If there is anything he might worry about, it would be that people would consider him too perfect," Sports Illustrated wrote in its profile. The magazine described 26-year-old Bruce as boyishly good-looking, beautifully built, good-humored, and well-spoken. It also touched on his wife of the time — "He came equipped with a pretty blonde wife in a tight-fitting T shirt" — and chronicled how they met:
"Chrystie is a minister's daughter. She met Jenner at Graceland, a small church college in Lamoni, Iowa, which he went to from Newton, Conn. on a football scholarship. He was also a water-ski champ then, but he took up the decathlon at Graceland, married Chrystie and moved to San Jose, where they live with a hurdle in the middle of the living room. She left school and became a stewardess to support him so that he — they — could go for the gold at Montreal and for all that it could mean."
Marriage with the minister's daughter was just one of the many lives of Bruce Jenner, and it soon fell apart. In the article, Chrystie talked about seeing a psychiatrist to help her become her own person and admitted, "Everybody would want to be in his position, but to live through someone else is very frustrating." Eventually, Bruce and Chrystie would divorce in 1981, after Bruce left her for actress and former lover of Elvis Presley Linda Thompson while Chrystie was pregnant. Even so, Chrystie didn't blame Bruce, telling People in 1996: "It takes two. We had the energy and enough maturity to get to the [Olympic] goal, but we didn't have what it took to keep it together."
Unfortunately, Bruce and Linda couldn't make it work either. Find out what happened (and see a sexy shot) when you keep reading.
Linda and Bruce, who appeared on Playgirl together in 1982, had two children (Brandon and Brody) after marrying in 1981. They divorced in 1984. At the time, Bruce said: "We are living apart and we still have a wonderful relationship."
Bruce went on to marry Kris in 1991, the former wife of OJ Simpson's lawyer Robert Kardashian, 22 years ago, after five months of dating. The couple had two daughters, Kendall and Kylie, and when the family's reality show hit TV in 2007, viewers got a look at their relationship, with Kris even admitting that she cheated on Bruce in the early '90s. When they announced their separation yesterday, the statement struck a familiar note: "We are living separately and we are much happier this way."