Busy Philipps Tweets Baby Picture
Our Favorite Funnylady Tweets of the Week
Whether you're working today or enjoying your long weekend, it's the perfect time to catch up on some funny tweets. This week in the quippiest tweets from our favorite funny ladies, Busy Philipps proved that even baby photos deserve a great caption, while Rebel Wilson scrutinized the process of "catfishing." Meanwhile, Chrissy Teigen revealed what we're all thinking about firework photos and videos, and Kelly Oxford epitomized human laziness. Check out the rest of our funnylady tweets of the week below!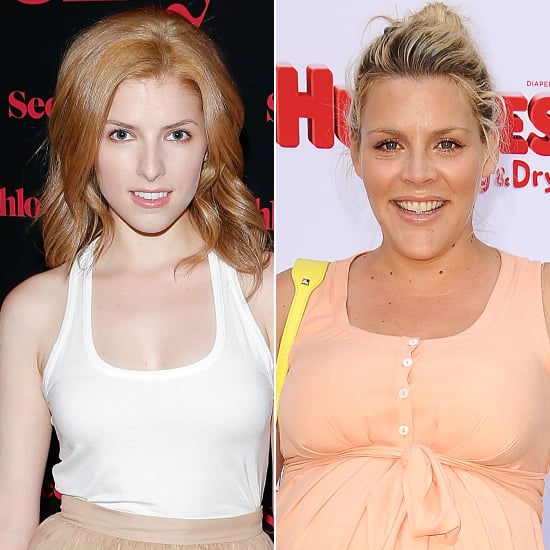 Best birth announcement ever. Congratulations, Busy!
So this happened... pic.twitter.com/Y0OipdeKBJ

— Busy Philipps (@BusyPhilipps) July 3, 2013


Do I detect a hint of sarcasm here?
Guys I won't be able to see the fireworks from where I am today. Can someone please post them to Instagram for me? #ItWillBeLikeIWasThere

— Anna Kendrick (@AnnaKendrick47) July 4, 2013


Check the rest of our favorite funnylady tweets when you read on!


Lena's right. Robin Hood was not fly at all.
Robin Thicke is so much flyer than a man named Robin has the right to be

— Lena Dunham (@lenadunham) July 4, 2013


File this under "things that keep me up at night."
Prob a dumb question but should you pee w force or is it healthier to just kind of let it happen? Thx

— Sarah Silverman (@SarahKSilverman) July 2, 2013


Are you sure, Kat Dennings? Isn't eating chocolate always a good time?
If you're GONNA eat chocolate for breakfast, you're GONNA have a bad time

— Kat Dennings (@OfficialKat) June 30, 2013


Mindy Kaling asks the right questions.
What does one wear to a @Beyonce concert? A Freakum dress? Fendi shoes? VVS stones? Her songs are TOO instructional! Help

— Mindy Kaling (@mindykaling) July 1, 2013


We've been waiting for this moment to happen.
Fireworks are cool because I could youtube a video of them and be just as bored as I would be in real life!

— christine teigen (@chrissyteigen) July 5, 2013


Guys, I think Bette Midler just passed out midtweet. Does someone want to go check on her?
My last show was yesterday. I've never been so exhausted in my entire life. I don't even have the strength to finish this t

— Bette Midler (@BetteMidler) July 2, 2013


Best way to look not lonely while out to dinner alone: pretend you're texting 10 different people.
I just sat down to eat dinner and the waiter told another waiter "it's just her" ......more like just her-tful

— Chelsea Peretti (@ChelseaVPeretti) July 2, 2013


Never forget, Julie. Avril Lavigne is punk rock royalty.
Sometimes I worry that Avril Lavigne isn't edgy enough but then I remember that she wore a *BLACK* wedding dress when she got married...?!?

— Julie Klausner (@julieklausner) July 4, 2013


Curse you, allergies!
I got allergies for the first time this year. It's cool, you feel sick but you're NOT. Mind over snotty matter.

— Kristen Schaal (@kristenschaaled) July 2, 2013


This is deep.
Nothing Gold Can Stay Subtweet onion rings

— mae whitman (@maebirdwing) July 2, 2013


Pretty sure Kelly Oxford should be the spokeswoman for all of humanity.
"Hmmm, what's the easiest way to do this?" - Me, about everything, all the time.

— kelly oxford (@kellyoxford) July 2, 2013


But Jenny, everyone still knows all the words to "Mambo No. 5."
i still know all the words to Mambo No. 5, that's what's wrong with me.

— Jenny Wade (@jenny_wade) July 2, 2013


With Rebel's method, you know you're going to find someone with a big heart.
Why don't really hot people catfish others and pretend to be two-toothed emotionally disabled people online?

— Rebel Wilson (@RebelWilson) July 3, 2013