CaCee Cobb Is Pregnant
CaCee Cobb and Donald Faison Are Expecting a Baby!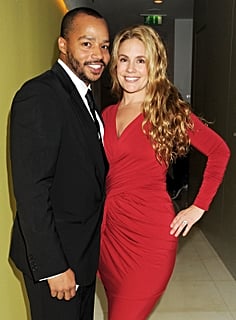 CaCee Cobb is pregnant! She tweeted the news today, saying that she and husband Donald Faison are going to have "a little Stormtrooper" of their own, along with a photo of a cute Star Wars-themed onesie. It will be the first child for the couple, who tied the knot in December 2012 at the home of Donald's former Scrubs costar Zach Braff in LA.
CaCee's best friend, Jessica Simpson, who is also expecting a new baby — her second child — took to Twitter to share her excitement. Jessica was happy about the news that her kids will have their own "future BFF" in CaCee and Donald's little one. Congrats to CaCee and Donald!