CaCee Posts a Photo of Donald on the Toilet — Funny or Mean?
CaCee Cobb Posts a Photo of Naked Donald Faison on the Toilet — Funny or a Little Bit Mean?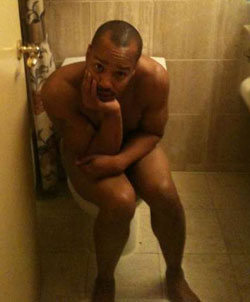 Jessica Simpson had a big night out in NYC with her best friends CaCee Cobb and Ken Paves yesterday, and they wrapped things up by having dinner with CaCee's boyfriend, Donald Faison, and his Scrubs' costar Zach Braff. Their meal might not have agreed with Donald, and CaCee later went on Twitter to share a photo of him on the toilet. She later took down the tweet, though the photo remains. The duo often posts silly things about each other, but this might have crossed the line. So, tell us what you think about CaCee's photo of Donald — was it funny or a little mean?