Calling Team Jacob! Have Questions For Taylor? Leave Them in Comments and Win!
It's our last day for questions before tomorrow's New Moon press day, and we're so excited! We'll be interviewing all the stars of the movie — including Robert, Kristen, Taylor, and more! — and we want your input on what you want to hear from them. So we're asking for your questions for the cast and you're going to have a chance to win! Today, it's all about Taylor Lautner so tell us what you want to know from Jacob Black himself!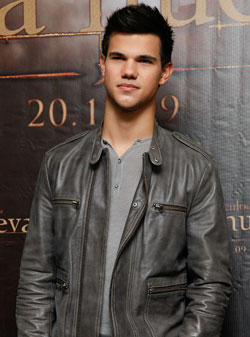 We're giving away awesome Twilight gear from CafePress — all you have to do is make sure you are logged in and then leave a comment with a question for the stars (official rules here). We'll choose our favorite one for each day and ask it at the interview. Here are the stars we'll be asking for your input for this week:
The questions have been amazing — click on the links above to ask Robert, the Volturi, Kristen and the Cullens everything! Stay tuned next week for video of all our interviews with the full cast to gear up for the exciting premiere of New Moon. Thanks for your entries, we can't wait to read all your questions! So, what would you ask Taylor Lautner?