Cameron's Celebrity Crushes
Cameron's Celebrity Crushes
Ms Diaz sure is everywhere these days. She and Jude are now in Hamburg promoting The Holiday, while JT is in LA gathering up Grammy nominations and performing. You'd think that Cameron would be nervous leaving him unattended for so long with all of his adoring female fans. But she says that kind of stuff doesn't bother her too much. As she recently told The Advocate, she's pretty confident in the relationship. Plus she has her own celebrity crushes to keep her from worrying about her hottie other half. Here's highlights: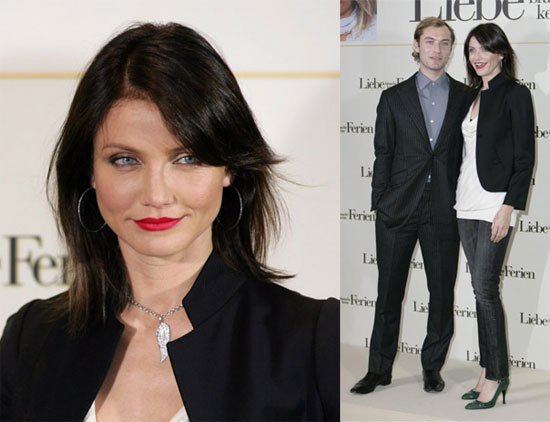 On Justin's flirty fans:
I'm not at all intimidated. I don't even care about the girls who flash all their bits and pieces at him. None of that bothers me. I love it! I'm like, "How awesome is your life? How cool is it to be you?" And Justin loves all of his fans. People adore him across the board, and he's not uncomfortable with any part of it. We love the gays.

On her celebrity girl crush:
I had a major girl-crush on Pamela Anderson. Still do—she's hot as ever—but she was my first. When I first discovered her I was like, Wow, she's so beautiful!

On her celebrity boy crush:
I did a film with Keanu Reeves a long, long time ago called Feeling Minnesota. I was new to the industry and I didn't know a lot of people yet that I had been watching on film, so I was like, Wow, he's really amazing-looking.
Never would have thought Cammie would have the hots for Pamela. Keanu we understand though. Feeling Minnesota was right around his Point Break days. Sigh. For more pics of Cameron and Jude just read more