Cameron Diaz In the June Issue of InSyle
Cameron Diaz Casually Wants It All
Start Slideshow
ADVERTISEMENT ()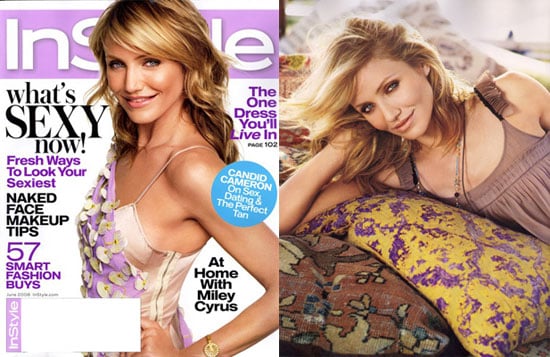 0
Cameron Diaz Casually Wants It All
Cameron Diaz has had a busy month promoting What Happens in Vegas, but this California girl looks perfectly relaxed in the June issue of InStyle. In the magazine she talks about her style, what she's looking for in a man and in a bittersweet moment, the love of her parents especially her father. Here are some highlights:
On being sexy: "You have to really enjoy [being sexy]. Not fake anything. Sexy is being in the moment, whether that means being coy or coming on hard. Faking is always lame and it never comes across the way you want it to."
On her love life: "I'm a woman. Of course I'm dating! [..] I trust my judgment. I'm not going to bring some idiot into my world, and if I'm not sure about him, I'm cautious. My list is all about balance. You can have smart but not funny. You can have funny but not very smart. You can have intellectual but not social. But ...I want it all! I love big brains. I love to eat. I love to be outdoors. I love to have conversations! I love to make love. I like live arrrrgh! I don't do anything half-assed, and I want somebody who can keep up with all that. And I want someone who can show me something, you know?""
To hear more of Cameron's thoughts on her style and her family just
.
On her style: "I don't like overdone or being too put-together. I like casual chic. Eclectic style. I want to feel like I can go anywhere, whatever I'm wearing. I found these jeans today and was like 'Well hello, Abercrombie jeans!' They're really old and I love them. I don't care that they've got holes in them."
On her parents [interview prior to her father's death]: "They just celebrated their 39th wedding anniversary. They're just really good, cool people. I know I'll never be in a situation where I can't get to somebody for support. [My father] said he'd always back me up if I got in trouble. He is a good man, stand up and loyal."
Cameron maintains a casual-cool, laid-back California girl image even during trying times. Clearly her loving and supportive family played a big role in the woman she has become today and they should be very proud of the superstar actress who is trying to save the world we live in while also having fun.