Cameron Diaz as Miss Hannigan in Annie
Cameron Diaz Is an Edgy Miss Hannigan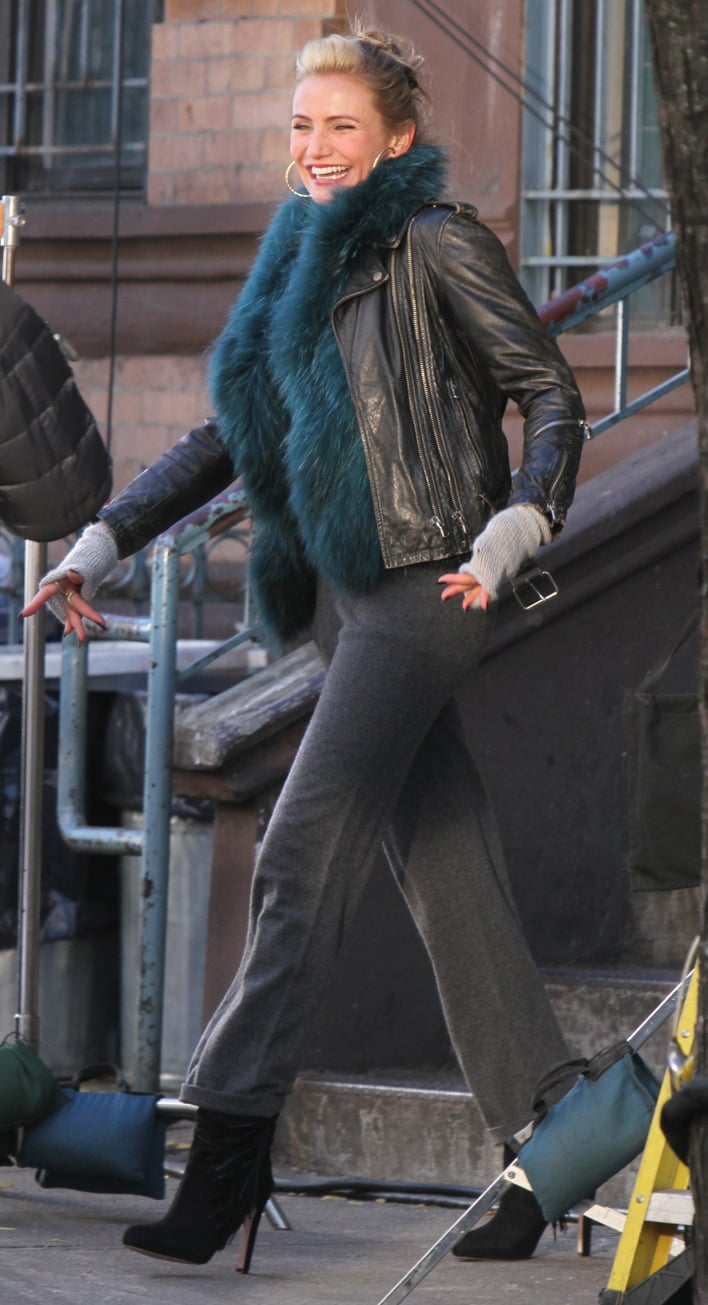 Cameron Diaz's portrayal of the infamous Miss Hannigan in the Annie remake already has us laughing — and the movie won't even hit the big screen until next year! The first photos of Cameron in character have come out, and let's just say the actress is spot-on at capturing the look of the abusive yet comical alcoholic who makes poor little Annie's life miserable.
Cameron looked as though she was having a ball on set in NYC today after showing off her messy updo and heavy makeup earlier this week. The actress smiled and laughed while playing the musical's antagonist. It looks as if Cameron is going all out to portray Miss Hannigan's confused fashion sense, donning an oversize green stole over a leather jacket.
Keep reading for more photos of Cameron as Miss Hannigan!
On Tuesday, Cameron leaned on a fire escape outside what appeared to be the orphanage where Miss Hannigan fails at raising Annie and her fellow orphans. Our modern Miss Hannigan wore cutoff jean shorts; a loose, fuzzy sweater; and over-the-top gold necklaces and hoop earrings.
Earlier this month, we got our first look of Quvenzhané Wallis and Jamie Foxx as Annie and Benjamin Stacks, the modern-day Daddy Warbucks. Cameron took to Twitter on Tuesday morning to give the first glimpse of her transformation into Miss Hannigan.
I want you to meet someone.
Her name is Ms.Hannigan. She ain't nice and she ain't pretty. #Annie pic.twitter.com/yRATzM6Oai

— Cameron (@CameronDiaz) November 12, 2013