Cameron Diaz Quotes and Interview
Cameron Diaz Shoots Down the Craziest Rumor She's Heard About Herself
Cameron Diaz's new movie Bad Teacher is out in theaters this weekend, and we had a chance to catch up with her while filming our latest I'm a Huge Fan with the A-list actress. Cameron chatted with us about what it was like watching the Justin Timberlake-Jason Segel bromance blossom, why she loves taking on over-the-top characters, and what it's like working with Colin Firth on their upcoming film Gambit. Plus, check out her answer when our winner asked what was the most outlandish rumor Cameron has ever heard about herself. Here's what Cameron had to say: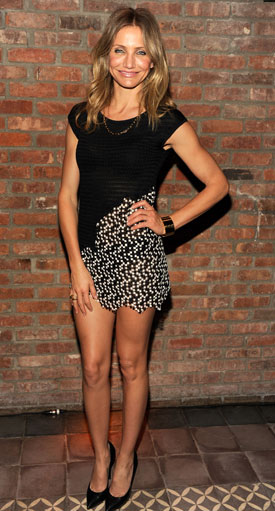 You have great comedic chemistry with Jason Segel; what makes you two work well together?
Jason Segel is a comedic genius, so I just followed his lead. He has such great timing, and he's so funny, and he really just knows how to do it, so I just played with his rhythm mostly. It's just written so well, as well.
Do you have any funny on-set stories about Jason and Justin?
I mean tons, way too many to even mention. There was a bromance happening most of the time. I couldn't get into the circle; it was impenetrable, a man world in there. I just kind of watched it at a distance in awe of the love and beauty that was being born on the set of Bad Teacher.
You're currently filming Gambit with Colin Firth; how is that going?
Colin Firth is the loveliest man on the face of the planet, and we are having a blast. We're really, truly just having such a great time.
What was going through your mind filming the car-wash scene?
Oh, please, Lord, do not let me slide off the hood of this car onto the concrete. That would suck.
To read more from Cameron just read more.
What draws you to risqué and over-the-top comedic roles like the one in Bad Teacher?
With a role like this, you just have to let it all hang out and not worry about anything. You have to go in knowing that the character herself is fearless and doesn't have any moral qualms; she's not worried about it, so I can't be worried about it. I feel like it's a very authentic piece [laughs]. There's no apology at the end of this. Elizabeth isn't trying to make up for all the terrible things she's done and said to people. She's done what she's done, and that's it, which I appreciate, since it's authentic to a lot of experiences in life. You don't always have an epiphany and change your whole life and your experience or what your drive is.
How was it working with all the kids?
The kids were awesome. They were hilarious. They had to have the best sense of humor to be a part of this, because we were really, truly inflicting a lot of pain on them on a daily basis. That's what I love about kids: they do get it, and we let them be a part of it and participate in it as human beings. They contribute so much to the film. They're really wonderful.
What is the craziest rumor you've ever heard about yourself?
There's one that's been around for literally 10 years, and before it was attached to me, I heard it about Demi Moore. It's that I only wash my face with Evian water. That's the craziest thing, since there are so many other bottled waters I wash my face with, other than Evian [laughs] . . . I think it was a marketing plan Evian had at the time. No, it's absolutely not true. It wasn't true for Demi; it wasn't true for me. I think where that comes from — we live our lives in trailers. [Actors are] like circus folk; people don't realize that it's superunglamorous, and the water [in the trailers] comes from tanks they put chemicals in so that it doesn't freeze. It's like an antifreeze. You would never wash your face with it. So anyone who washes their face at work would have to use bottled water to wash their face. There's a grain of truth in everything that someone has taken it and just spoiled it.