Cameron Scared of Super-Skinny Celebs
Cameron may be too big to do ads here in the states, but not in Japan. Here's some of her ads for SoftBank Mobile in Tokyo. Whether Cameron is acting or modeling, she is very conscientious of her image. And she understands that as a celebrity, she is a role model for a lot of young fans. She agrees with her The Holiday co-star Kate Winslet that the super-skinny trend needs to be stopped. Here's more: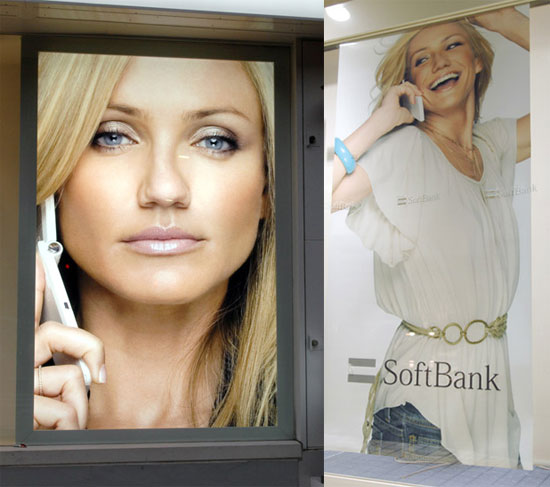 "I think it's terrifying, it's tragic and sad. I think that it's a sickness, something that's going on in someone's head where their perspective is off. We get ideals from images that we see and there certainly should be more responsibility put on those people who are putting those images out into the world. Let's be a little bit more responsible to what's realistic. I'm a skinny girl, so all my life all I have ever wanted to be is curvaceous and voluptuous, have everything falling out everywhere. Some people... their perception and their perspective is completely askew."
Cameron is naturally skinny so she's just lucky she doesn't have the pressure to be thin. However, it's a good thing that celebrities continue to speak out about the unhealthy, underfed look. Hopefully it will be a thing of the past very soon. For more pics of Cammie's ad campaign just read more