Carey Mulligan Talks About Shia LaBeouf in 2011 January Elle UK
Carey Mulligan Shares on Hair, Shia, and Feeling Sexy in Elle UK
Carey Mulligan scored the cover of Elle UK's January 2011 issue, which is on newsstands now! The actress has been busy wrapping up the current year with award shows in both the US and the UK, but she found a minute to break from the jet-setting to chat about her short hair, her ex-boyfriend Shia LaBeouf, and the pressure to be beautiful in Hollywood. Carey said: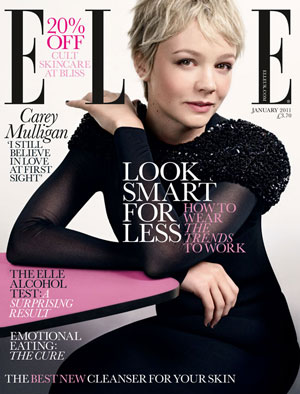 On meeting Shia: "I always wanted to work with him, above and beyond anything else, because I thought he was so amazing in A Guide to Recognizing Your Saints . . . I don't want to meet all these amazing people, that's not the thrill — I want to work with them."
On her short hair: "I hate my hair. After An Education, I had a small part in Michael Mann's film Public Enemies, and he wanted me to dye it white blonde and it wrecked my hair. Literally, ruined it. It was falling apart, fried. So I had to cut it off. I cried."
On not feeling sexy: "I've never felt like a sexy person . . . I've always felt like a sensible person. I've always felt absurd wearing anything revealing. I've always felt different here [in Hollywood]. I remember going up for auditions, walking into rooms of girls in denim minis, with cut-off tank tops, tanned legs, long hair and manicures, thinking, 'Erm . . . '. But it never made me feel bad. I've never felt pressure to look like that."
On having to lose weight for a role: "Weetabix for breakfast, soup for lunch and salad for dinner. 'No, I will not have that glass of wine! Put that pizza away!' It was not fun. I look back and it's really, really not worth depriving yourself. I was very thin at the beginning of An Education and I remember the scene where I'm dancing and you can see my spine. Yuck. I would never want to be so thin that someone would think it was a good idea to be thin, and make themselves miserable. I know this sounds wanky, but I would never want to set a bad example, basically."
To see what Carey says about getting Botox at 25, spending a day with Warren Beatty, and The Girl With the Dragon Tattoo, just
.
On someone offering her Botox:
"I said, 'I have some lines here under my eye and they're annoying, what can you do?' He looked at my face and said, 'We'll just drop some Botox in here, and here . . .' I said, 'What the f***? I'm only 25; are you joking?' So I can't move my face? Isn't that, well, the antithesis of what I'm trying to do as an actress? Only in LA would someone try and give you Botox when you're 25 years old."
On meeting Warren Beatty: "Walking along the beach at Malibu, with him telling me crazy stories about Marilyn Monroe and Natalie Wood. Once you meet him your entire day is Warren. The first time we met I was really nervous, but we hung out for seven hours. He's fascinating. He's been part of this world since before it was celebrity obsessed, since 'famous' had a different meaning . . . It's very equal. He doesn't treat me like a young person."
On being competitive: "I'll be in agony when I watch The Girl With the Dragon Tattoo . . . I auditioned for it, but I didn't get the part."