Carla Bruni Gives Birth to Daughter
Carla Bruni and Nicolas Sarkozy Welcome a Daughter!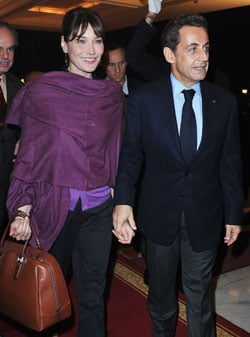 Carla Bruni gave birth to a baby girl in Paris today. The child is Carla's first with her husband, French President Nicolas Sarkozy, though both have children from previous relationships. Carla has one son, Aurelien, who is 10, while Nicolas is also father to 26-year-old Pierre, 25-year-old Jean, and 14-year-old Louis. Carla and Nicolas have not released a name and apparently don't plan to share an official photo of their daughter either.
We saw pregnant Carla in a bikini over the Summer just a few days before the couple confirmed the pregnancy in July. Congrats on their new addition!