Carrie and Kenny Shine at the Country Music Awards
Start Slideshow
ADVERTISEMENT ()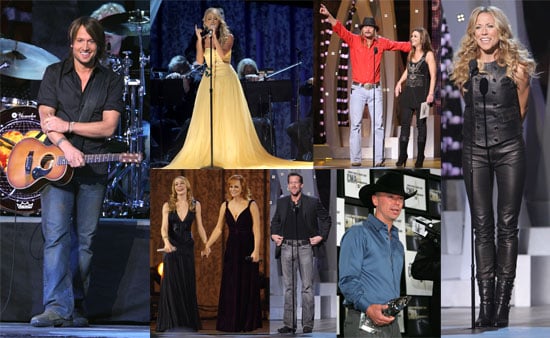 0
Carrie and Kenny Shine at the Country Music Awards
We already checked out all the red carpet looks and now it's time to get down to the show at last night's Country Music Awards in Nashville. The big winners of the night were Carrie Underwood, who won Female Vocalist of the Year for the second year in a row and Single of the Year for "Before He Cheats," and for the guys Kenny Chesney who won Entertainer of the Year, and Brad Paisley, Male Vocalist of the Year. Check out the full list of winners here. An unexpected highlight for me was Kellie Pickler who got pretty emotional during her song, and on a random note Jamie Foxx's appearance. Meanwhile, I was expecting a whole lot of Jessica Simpson all over the CMAs and she was apparently in the auditorium, but kept herself out of the spotlight — she's more serious about country music than another photo op. Ha. Did any of you watch the show? Favorite moments? Shockers?
To see more from the show itself with and pressroom including Sheryl, Kid, Reba and so many others just
Images include Carrie Underwood, Sheryl Crow, Miranda Lambert, Big Kenny, James Denton, Taylor Swift, Keith Urban, Kenny Chesney, Tracy Lawrence, LeAnn Rimes, Reba McEntire, Kid Rock, Gretchen Wilson and Jamie Foxx with Rascal Flatts.