Cate, Kate and Jessica Take Palm Springs Honors
Palm Springs sure makes everyone look stunning. The British Kate and Sienna looked amazing as well as the other Cate. As usual, Jessica Biel was all class showing off her sick and well rested body. She was there to receive the Rising Star Award. Another big winner of the night was Babel who took best ensemble performance and Director of the Year. Cate Blanchett won Career Achievement of the Year for her work in the film as well as Notes on a Scandal and The Good German. Brad may not have won an award on his own but Cate made sure to throw some attention his way. Here's more: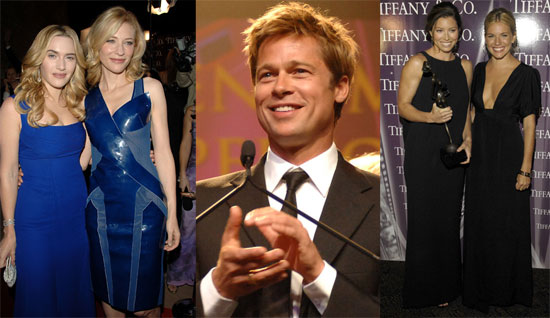 Blanchett on stage joked that she could barely speak English, prompting Pitt to play interpreter and feign sign language. He also lead the crowd of 1,800 (which included Morgan Freeman, Laurence Fishburne, Alan Arkin and Sissy Spacek) in singing Happy Birthday to their Japanese Babel co-star, Rinko Kikuchi. In honor of Kikuchi's 26th birthday, Blanchett playfully said she was pulling a Britney Spears — "not wearing any underwear this evening."

Tiffany was an event sponsor, and stars were greeted on the red carpet by a 5-foot version of the jeweler's signature blue gift box, wrapped in white ribbon. Kate Winslet (honored for acting achievement for her role in Little Children) Winslet said her "childlike brain" was hoping to see "a person leap out of the box and perform some fabulous tap dance." The gift box sparked "extreme excitement" from presenter Sienna Miller. "I'd like to be in that box with whatever else is in there," she said.
Sounds like a great night. Love the fact that Cate Blanchett is totally up to speed on Britney's missing underwear! Goes to show that A-List celebs don't take themselves too seriously. For a list of the winners and more pics of this stunning looking group as well as Abigail Breslin, Adam Beach, and more just read more
Also includes, Alan Arkin, Alejandro Gonzalez Inarritu, Brad Pitt, Cate Blanchett, Jessica Biel, Jon Favreau, Kate Winslet, Laurence Fishburne, Morgan Freeman, Rinko Kikuchi, Sienna Miller, Sydney Pollack
• Ensemble Performance Award: Babel
• Director of the Year: Alejandro Gonzalez Inarritu (Babel )
• Career Achievement Award: Cate Blanchett (Babel, Notes on a Scandal, The Good German )
• Desert Palm Achievement for Action: Kate Winslet (Little Children )
• Sony Bono Visionary Award: Todd Field (Little Children )
• Rising Star Award, Male: Adam Beach (Flags of Our Fathers )
• Rising Star Award, Female: Jessica Biel (The Illusionist )
• Frederick Loewe Award for Film Composing: Philip Glass (The Illusionist,Notes on a Scandal )
• Chairman's Vanguard Award: Little Miss Sunshine
• SAG Foundation Patron of the Arts Award: Sydney Pollack
• Breakthrough Performance Award: Jennifer Hudson (Dreamgirls )