Celebrities in High School
What Your Favorite Stars Were Like Growing Up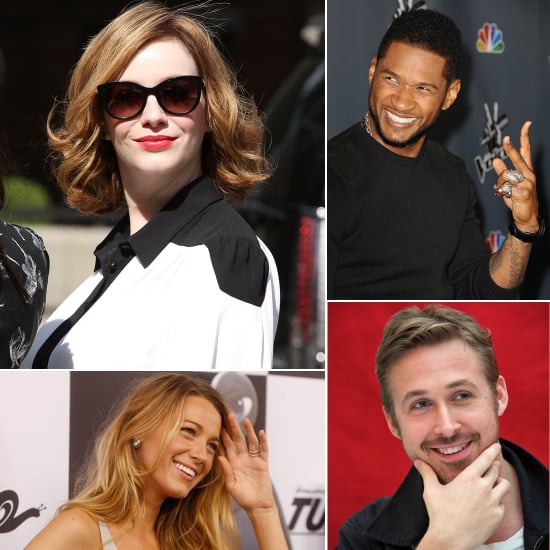 The Internet hit celebrity gold this week when one Reddit user asked others to share their "before they were stars" stories. The thread kicked off with two simple questions: "Did you ever grow up with someone that is now famous? If so what were they like growing up?" Stories soon came flowing about a future James Bond who worked as a milkman, a certain Game of Thrones star who cheated on his high school girlfriend, and a current glamourous starlet who was voted class clown. We've rounded up our favorite gems. Of course, none of this is fact-checked, so it this could be pure fan fantasy, but here's what people are saying in the thread.
Kristen Stewart was a bit of a trouble maker: "Went to middle school with Kristen Stewart. She just finished Panic Room and had really short hair. She sat behind me in bio and pulled my hair, teacher thought it was cute."
Ryan Gosling took dancing seriously: "My sister-in-law used to do competitive dance with Ryan Gosling when they were really young. Apparently he was really sweet and talented even as a kid."
Blake Lively was a jokester: "I went to high school with Blake Lively. She was super pretty and very popular. She still went to our school when she was making the traveling pants movie and it never went to her head. She was really nice and actually really funny. She was voted class clown in the year book."
Again, Blake Lively was really, really great: "Blake Lively, from 6th -12th grade. We sang together in choir. She was always a very sweet, humble and polite girl. We all loved her, when she started working on her movie she had to opt for home schooling to be able to finish the work, but to support her everyone in choir went to see her movie. That's how much we all liked her. I'm really happy to see how her life turned out."
Hilary Duff was bullied: "I remember a friend of mine on my soccer team was talking about this weirdo Hilary Duff. He went to school with her and she was nowhere near being in the popular group. From the way he talked I think she was bullied a lot. Then about a year or so later I was absolutely obsessed with Lizzie McGuire so she obviously showed them."
Michael Cera was, not surprisingly, awkward: "Michael Cera was my reading buddy in elementary school. He was on a Canadian kids show at the time, so he wasn't a complete unknown. He was kind of awkward, but an overall nice guy."
Viggo Mortensen was kind of dorky: "My mom went to school and was on swim team with Viggo Mortensen (Lord of the Rings, Hidalgo, A History of Violence) before he switched to prep school. Apparently he was a nice young man, kind of dorky, fairly wealthy compared to his peers."
Liam Hemsworth kept to himself: "I went to primary (elementary) school with Liam Hemsworth. He was a really quiet kid. Very much in his brother's shadow back then because Chris was already on TV."
Kit Harrington had a wandering eye: "Went to Sixth Form College with Kit Harrington. He dated my then girlfriend's best friend. He cheated on her. I think he ruined Jon Snow for me."
Just keep reading for the rest!
Sean Connery was a big, handsome milkman: "Sean Connery used to deliver milk to my Grandad's shop. He would say that he was a hard worker and a big man. My Nan would always chirp in, 'and handsome.'"
Hayden Christensen was a little aloof: "My high school drama TA was Hayden Christensen. Came off as stuck up but was pretty nice and willing to help and give pointers on acting. Just seemed quiet the rest of the time."
Christina Hendricks was a Rocky Horror fan: "My brother dated Christina Hendricks briefly after high school. He says she was a really sweet person. They met at a Rocky Horror Show."
Frankie Muniz liked Hanson: "Frankie Muniz was my only friend at school in 5th grade. We listened to Hanson and planned on forming our own band, but that summer he moved to LA."
Even cats loved George Clooney: "When my mom was a kid she lived next to George Clooney. They were in a more rural area so she didn't see him much but her cat would always go over to his house and one day it just stayed there."
Niki Taylor kept things real: "I grew up with someone that became famous as we were growing up. The supermodel Niki Taylor, was in school with her from 6th grade till 12th. She started modeling in middle school, but really hit it big while we were in high school (freshman year she was on the cover of Vogue, junior year named by People magazine as one of the 50 most beautiful people). It was kind of weird having someone that famous actually in school with you, but she was very down to earth."
Lady Gaga was a drama babe: "Lady Gaga (then Stefani Germanotta) starred in my high school's production of Guys and Dolls. We were an all-male school, so we recruited from neighboring all female-schools for our shows. She was a very friendly and affable person, even if she could be a bit conceited at times. Also, the entire pit band wanted to bang her (again, it was an all-male catholic school)."
John Krasinski was a lot like Jim: "I went to college with John Krasinski and knew him a little. We had served as orientation leaders together. The first time I saw him on The Office, I thought 'I love that actor!' and then realized that I actually liked him from actually interacting with him. Jim is very much like John in real life — funny, easy-going, grounded. In one early episode when they end up outside due to a fire alarm he instigates a game of "Desert Island." He actually did that in real life at orientation."
Megan Fox was a popular girl: "She was a pretty typical high school girl. Drank and partied with the equivalent sports guys and what not. It was hilarious reading the article about her experience in school. How she was 'always alone' and 'none of the girls liked her because she hung out with the guys most of the time.' She was probably one of the more popular girls at the school, seeing as there were only maybe 80 of us total through grades 8-12. I don't remember her ever being terribly kind or a hero of the downtrodden like that article made out, either."
Usher had the best birthday parties: "I went to his 13th and 14th birthday parties, and they were really cool, a lot of people in the Atlanta hip hop and music scene. He was always a really nice guy. I've told this before but I ran into him about 6 years later when he was really famous and he remembered my name, was super cordial and took pictures with me, my girlfriend and my family. His little brother was having a birthday party at my family's business and they had rented the whole place out. Somehow a bee flew inside and stung his brother who was allergic and they had to leave. His mom WENT OFF on me saying it was our fault. Usher walked by during her tirade and shrugged his shoulders, ha THANKS FOR NOTHING USHER."
Bruce Willis got into acting to help his stammer: "My FIL played baseball with Bruce Willis when they were kids, he had a stammer and people used to tease him about it sometimes but otherwise he was just a normal kid. He got into acting to help with his stammer, and the rest is history."
Danny McBride was pretty much the same: "My sister's high school sweetheart was Danny McBride. He always came over our house and was effing hilarious, and super nice. (I was in middle school.) . . . My sister's a dumb-ass for not holding on to that one that's for sure."
Amanda Bynes had a nice, normal family: "The dad, Richard, was my dentist when I was a kid and always had the best jokes. The mom, Lynn, is the sweetest person you will ever know. Amanda was always funny, but hit her stride in slapstick after going through some classes at the Laugh Factory. Jillian is like her mom, again one of the sweetest people you will ever meet. I never really saw Tommy that much, but again, he was a really nice guy and pretty successful in his own right. Overall its a shame what road Amanda has gone down, especially with how awesome her entire family is."
Cory Monteith created a religion around McNuggets: "I knew Cory Monteith since he was about 16. He was an awesome guy. Super funny, and totally kind-hearted. He and I jokingly started our own religion that we were always talking about using as a 'tax shelter' (pretty sure neither of us knew what that meant). It was a religion based on the deliciousness of McNuggets: Church of the Mechanically Separated Chicken."
Katy Perry wasn't exactly popular: "I went to high school with Katy Perry — whom nobody really liked because she was super Christian and kind of mousey."