Celebrities on Martin Luther King Anniversary
Celebrities Share Their Dreams on the Anniversary of MLK's Speech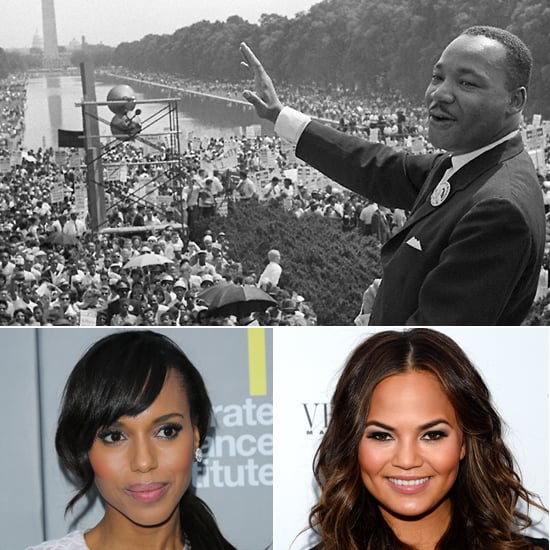 "I have a dream that my four little children will one day live in a nation where they will not be judged by the color of their skin but by the content of their character," Martin Luther King, Jr. declared exactly 50 years ago, inspiring the resilient civil rights movement that continues today. Crowds are gathering in DC to commemorate the March on Washington, and President Obama delivered his own historical speech as the nation's first black president this afternoon. Meanwhile, people around the world are marking the anniversary by sharing their own dreams and tributes to MLK on Twitter. Everyday and famous people alike are getting in on hashtags like #DreamDay, #IHaveADream, and #MLK. See a sampling below from celebrities.
I and millions of Americans share Martin Luther King Jr.'s dream.

— Maya Angelou (@DrMayaAngelou) August 28, 2013
Yo!!!!!! Git dat s$&t, Prez. Obama!!! My man!!! Goose bumps the whole way through. My man.

— Taye Diggs (@TayeDiggs) August 28, 2013
Feeling humbled by history & grateful for those who marched. I'm sad that I can't be in DC for #MOW50 Watching what I can b4 work #DreamDay

— kerry washington (@kerrywashington) August 28, 2013
In elementary school, we memorized large sections of MLK's DREAM speech. I remember my parent's faces as they watched me recite. Bliss.

— Tyra Banks (@tyrabanks) August 28, 2013
I have a dream that young girls everywhere will know their worth and importance. #DreamDay http://t.co/G6DiVlqpkr

— christine teigen (@chrissyteigen) August 28, 2013
I have a dream that women will inspire each other to accomplish things they never imagined possible.

— Bethenny Frankel (@Bethenny) August 28, 2013
See more tributes below.
Dr. King's "Letter From A Birmingham Jail" ☛ http://t.co/1ym4FhFY21

— Alyssa Milano (@Alyssa_Milano) August 28, 2013
I have a dream that we will treat the planet as generously as it has treated us... What's yours? http://t.co/vnmkwcT1A0 #dreamday

— Richard Branson (@richardbranson) August 28, 2013
'I have decided to stick with love. Hate is too great a burden to bear.'- Martin Luther King, Jr.

— Kelly Osbourne (@KellyOsbourne) August 28, 2013
#IHaveADream that we can work together to help eradicate all slavery and human trafficking. @SavingInnocence @Uheroes #DreamDay

— Kellan Lutz (@kellanlutz) August 28, 2013
Today we are remembering #MLK 's dream of equality and kindness, & hope you continue to practice this daily. #dreamday

— Jonas Brothers (@JonasBrothers) August 28, 2013