Celebrities React to Cory Monteith's Death
Celebrities React to Cory Monteith's Sudden Passing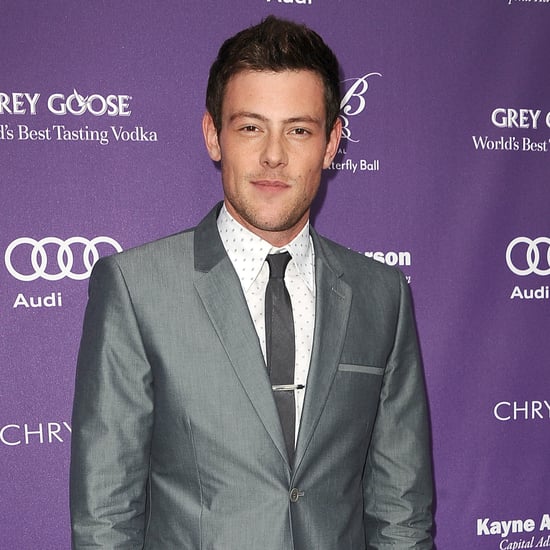 Glee star Cory Monteith has died at age 31. He was best known for his role as football-player-turned-singer Finn Hudson and was currently in a real-life relationship with his onscreen love, Lea Michele. Cory's fellow costars and celebrity fans like Nina Dobrev, Kim Kardashian, Taylor Swift, Joel McHale, and Zooey Deschanel are already taking to social media to share their sadness over the devastating news. See below for their immediate reactions.
I'm gutted. Shocked and saddened to hear the news, my heart goes out to Cory's family and friends. Lets respect their space as they grieve.

— Nina Dobrev (@ninadobrev) July 14, 2013
Just heard about the death of Cory Monteith. So sad. Prayers 4 his family. Praying 4 Lea too! Words cant describe what they must be feeling

— Kim Kardashian West (@KimKardashian) July 14, 2013
#CoryMonteith no words. Prayers. Thoughts w his family. This is terrible. Can't speak.

— Kaley Cuoco (@KaleyCuoco) July 14, 2013
This is such sad news about @CoryMonteith - what an absolutely tragic loss of a very talented young man.

— zooey deschanel (@ZooeyDeschanel) July 14, 2013
This hurts. I love you Cory. Rest in peace. My thoughts and prayers are with you and your family. pic.twitter.com/SceFQd7gzT

— Selena Gomez (@selenagomez) July 14, 2013
Way too soon. A very nice & good guy. RT @joshgad: RIP Cory Monteith. Gone way too soon.

— Joel McHale (@joelmchale) July 14, 2013
At this time, please send nothing but love and light. This tragic news still doesn't seem real to me. I love you Cory.

— Harry Shum Jr (@iharryshum) July 14, 2013
I HAVE NO WORDS! MY HEART IS BROKEN CORY WAS NOT ONLY A HELL OF A FRIEND HE WAS ONE AMAZING MEN THAT I WILL HOLD CLOSE TO MY HEART FOREVER

— Dot-Marie Jones (@dotmariejones) July 14, 2013
RIP CoryMontieth. You will be loved. Always.

— Kristin Chenoweth (@KChenoweth) July 14, 2013
Keep reading for more celebrity reactions.
Speechless. And for the worst reason.

— Taylor Swift (@taylorswift13) July 14, 2013
going through a million memories and emotions today. ill love you always Brother Cory.

— Mark Salling (@MarkSalling) July 14, 2013
I just heard about Cory Monteith.. Rest in peace, everyone close to him and affected by this loss you're in my prayers.

— Chloë Grace Moretz (@ChloeGMoretz) July 14, 2013
I can't fully process this news. Tragic, tragic loss of a young, promising, talented man. Cory Monteith, rest in peace

— Kat Dennings (@OfficialKat) July 14, 2013
I saw him a few weeks ago in NY, looking so happy. heartbreaking... #corymonteith RT @aurosan: No no no no no no no: http://t.co/zQZasD3N37

— Sophia Bush (@SophiaBush) July 14, 2013
RIP Cory Monteith. Gone way too soon.

— Josh Gad (@joshgad) July 14, 2013
I will always cherish you in my heart. Thank you for so many wonderful days. I love you CM ... pic.twitter.com/HW5me8dmLo

— Adam Shankman (@adammshankman) July 14, 2013
The guy I shot my first acting scene with. The nicest guy I've met. Can't believe it.

— Damian Mc Ginty (@damianmcginty) July 14, 2013
Yes, I watched the Vancouver PD press conference. very very sad RT @jdelflord: #KATHY, Corey monteith is dead.

— Kathy Griffin (@kathygriffin) July 14, 2013
Thoughts & prayers go out to parents and loved ones of Cory Monteith. So sad. Rest in Peace.

— Rachelle Lefevre (@RachelleLefevre) July 14, 2013
R.I.P. Cory Monteith. #Glee.

— David Boreanaz (@David_Boreanaz) July 14, 2013
I am truly saddened to hear about Cory Monteith. What a talented and sweet guy. My prayers go out to his family and loved ones.

— Rumer Willis (@TheRue) July 14, 2013
So sad to lose a dear friend & talented man... @CoryMonteith you'll always be remembered.

— Katie Cassidy (@MzKatieCassidy) July 14, 2013
Goodbye my amazing and beautiful friend. The lights in my world just grew dimmer. The world just lost one of our best. I love u so much...

— Adam Shankman (@adammshankman) July 14, 2013
Corey was taken from this world too soon... I'm glad I had the opportunity to know him. http://t.co/ydlpqfdF6V #RIP COREY

— Trevor Donovan (@TrevDon) July 14, 2013
So damn sad.Ask for help. It gets better, believe me. RT @HuffingtonPost: Cory Monteith, 31, found dead. http://t.co/Ijw8MsebM4

— Clark Gregg (@clarkgregg) July 14, 2013
Really awful to lose someone so young and talented. RIP @CoryMonteith

— Lamorne Morris (@LamorneMorris) July 14, 2013
R.I.P. Cory Monteith. Always heard what a great guy he was. A real gentleman. Prayers for his family. #waytoosoon

— Jim O'Heir (@JimOHeir) July 14, 2013
R.I.P. Cory Monteith. You left your mark with our generation. You and your talent will be missed. Sending love and strength to your family

— Rowan Blanchard (@rowblanchard) July 14, 2013
#CoryMonteith a loss of words. May you rest in Peace. Thoughts and prayers to his family and friends.

— Jaime King (@Jaime_King) July 14, 2013
ALL of our lives are precious & can be gone in a flash, live better, smarter & show true appreciation for the now. Sad day.#RipCoryMonteith

— NICK ZANO (@NICKZANO) July 14, 2013
This news of Cory Monteith's death just shakes me to my very core. So young. My thoughts and prayers to his family and friends.

— Scott Porter (@ScottPorter) July 14, 2013
Sad news. ...Shocking and terribly sad. #Cory

— Matt Lanter (@MattLanter) July 14, 2013
Oh my god, my heart & prayers go out to the family & loved ones of Cory Monteith. This is heartbreaking. Tragic.

— Monica Potter (@monicapotter) July 14, 2013
shocked and so heartbroken to hear the news about Cory. my heart goes out to his friends and family.

— Beth Behrs (@BethBehrs) July 14, 2013
My thought love & prayers are going out to the friends & family of Cory Monteith my he rest in peace!

— Kelly Osbourne (@KellyOsbourne) July 14, 2013
How sad to read about Cory Monteith passing away. What a shame. He was a lovely, kind, talented guy and will be missed.

— Neil Patrick Harris (@ActuallyNPH) July 14, 2013
Wow, just read the news about Cory Monteith. How sad, way too young. I hope he's at peace. Prayers go out to his family & friends.

— LeAnn Rimes Cibrian (@leannrimes) July 14, 2013
I am in shock about the horrible news of Cory Monteith's death. I wasn't lucky enough to know him but I am saddened today by this loss.

— Danielle Fishel (@daniellefishel) July 14, 2013
I am shocked and deeply saddened by the heartbreaking news about Cory Monteith. My heart goes out to his family and Lea Michelle.

— The Real Paula Abdul (@PaulaAbdul) July 14, 2013
Sad w/e/ A killer walks & a gifted talent dies way too young. Remember your Kipling, ppl. Keep your head when all around u r losing theirs..

— octavia spencer (@octaviaspencer) July 14, 2013
So sad to hear about Cory Monteith. My thoughts are with his friends and family and poor, poor Lea. I can't imagine...

— Lauren Conrad (@LaurenConrad) July 14, 2013
Cory Monteith, may your spirit be at peace, and may you fly with the angels... Heartbreaking, my prayers are with all of his loved ones!

— Rihanna (@rihanna) July 14, 2013
RIP @CoryMonteith. Condolences to all those who knew and loved him...be they family, friend or fan. He was a truly kind man.

— yvette nicole brown (@yvettenbrown) July 14, 2013
First day on Glee he said to me, I can't believe I'm working w/Uncle Jesse- I can't believe i'm writing this tweet. Heartbreaking. RIP Cory.

— John Stamos (@JohnStamos) July 14, 2013