Celebrity Make-a-Wish Stories
Celebrity Make-a-Wish Moments That Will Make Your Heart Melt
Today, a little boy who is battling leukemia will feel like a celebrity in his own right when San Francisco transforms into Gotham City so that he can be Batman for a day. Five-year-old Miles's story joins a long list of heartwarming Make-a-Wish moments, including more than a few celebrity meet-and-greets. Over the years, stars like Emma Stone, Miley Cyrus, and Justin Bieber have granted sweet wishes by meeting their biggest fans through the Make-a-Wish Foundation. While some of the kids facing life-threatening conditions wish to be pop stars, others dream of meeting athletes, TV stars, or their favorite singers, and they've seen those wishes granted with backstage introductions, private concerts, and on-set visits. Take a look at some of the most touching Make-a-Wish moments from celebrities.
Katy Perry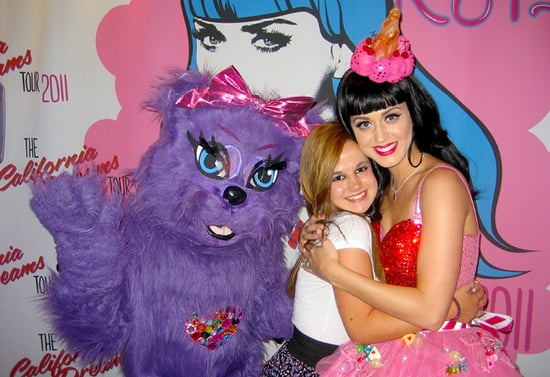 Katy Perry met with 15-year-old Toniann during her California Dreams tour, where Toniann and her mom sat in VIP seats before Katy dedicated a song to the young girl.
Selena Gomez
Ella, a 7-year-old little girl, wished to meet Selena Gomez, and after Ella met the singer backstage at her concert, Selena dedicated a song to her during the show.
The Cast of The Office
The cast of The Office invited 16-year-old Anna on to the set, where she met with Steve Carell, John Krasinski, Rainn Wilson, and the rest of the group. While she was there, the makeup artist gave her a makeover, and the crew gave her a behind-the-scenes look at how they filmed the show.
Read on for more celebrity Make-a-Wish stories.
Tom Brady
New England Patriots quarterback Tom Brady met with one of his biggest fans, 18-year-old Eric, after Eric wished to meet his favorite football player. After the two were introduced on the field, Eric got to watch the game and then meet more of the Patriots players the next day.
Miley Cyrus
At an event in Phoenix, AZ, 14-year-old Emily was one of seven lucky wishers to meet Miley Cyrus, who spoke in a video about how special it was:
Tim McGraw
Tim McGraw made 11-year-old Taylor's wish come true when the little girl was flown to NYC to meet him on Good Morning America. While she was there, he also gave her a 30-minute private concert, singing some of her favorite songs.
Mario Lopez
Eleven-year-old Cayden wished to be a pop star, and he got the full pop-star treatment by recording a song, participating in a photo shoot, performing with Maroon 5, and making an appearance on Extra alongside Mario Lopez.
Justin Bieber
Five-year-old Monroe's wish came true when she took a limo to Justin Bieber's concert, meeting the singer one-on-one in his trailer where he gave her an autographed guitar just like his. Justin also featured four Make-a-Wish kids in his music video for the song "Pray."
Emma Stone
Fifteen-year-old Sydney wished to meet her favorite actress, Emma Stone. After being flown to NYC and hanging out with Emma, she said, "It felt like a dream."
John Stamos
As a die-hard fan of Law & Order: SVU, 18-year-old Mallory wished to meet the cast. She called the day "beyond fantastic" after hanging out with John Stamos and Mariska Hargitay, getting the VIP treatment on set.
The
Jonas Brothers
When 5-year-old Maci headed to New Orleans to meet the Jonas Brothers at their concert, she went backstage before heading to the sound-check party. It was Joe's birthday, and Maci brought him a jar of homemade cookies.
LeBron James
Seventeen-year-old Thiago, a cancer survivor, sported a personalized Miami Heat jersey when he joined the team for practice. After shooting free throws with his favorite player, LeBron James, he said, "The experience was unreal."