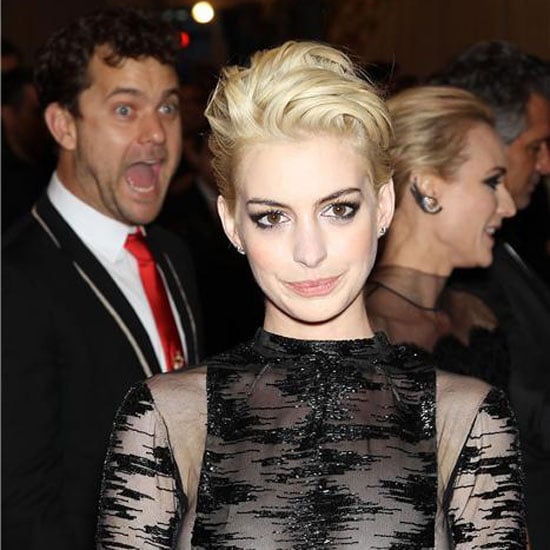 With the sheer number of amazing celebrities who hit up the Met Gala in NYC last night, there were bound to be some inadvertent photobombs along the way. Tom Brady's hand seemed quite attached to his wife Gisele Bündchen's backside all night, which made its way into the background of more than a few photos. Joshua Jackson embraced the true spirit of the photobomb behind Anne Hathaway. Click through to see Amanda Seyfried popping up, January Jones's icy glare, and Kristen Stewart stealing the show even behind Katy Perry and her crown.
We've got tons more instant classics, so to check them out, just
!
Tom Brady sneaks in a grab
La La Anthony creeps in on Nina
Cameron's cape coming from behind
January and Stella sneak in a smoke
Mary-Kate Olsen wanders through Katie's shot
Watch out January, Michelle's right behind you
SJP's headdress takes Tiger's moment
Tom Brady can't stop smiling
John and Emily cuddle behind Gwyneth
. . . And from the other side
A trio of shots
Emmy Rossum tries to sneak out in front of Gavin and Gwen
Uma, Julianne. Julianne, Uma
Seriously, Tom can't stop smiling
Carey steps up behind Cameron
Renée and Michelle pose back to back
Kristen's stare almost distracts from Jessica Biel in the back
We see you, Maggie Gyllenhaal
Katy Perry and Kristen Stewart in dueling spotlights (Leslie Mann's there, too)
Dakota slips in while Sienna pouts for the camera
Awkward moments between Miley and Taylor?
When Nicole's hair is in the picture . . . it really steals the show
Did Amanda Seyfried change into an oversize t-shirt?
Amanda's eyes are hard to miss
Sister, sister photobomb from Elle
Alicia Keys's sequin moment behind Blake
Wait, Gisele! Tom stops to talk to Jimmy Fallon on the way out
Josh Jackson embraces a true photobomb moment!