Celebrity Reactions to the Birth of the Royal Baby
Celebrities React to the Royal Baby's Birth
Kate Middleton gave birth to a baby boy at St. Mary's Hospital in London! We've all breathed a huge sigh of relief and excitement, and celebrities have begun to chime in with their own reactions. A few have taken the moment to express excitement and congratulations, while others have seized the opportunity to provide a little comic relief.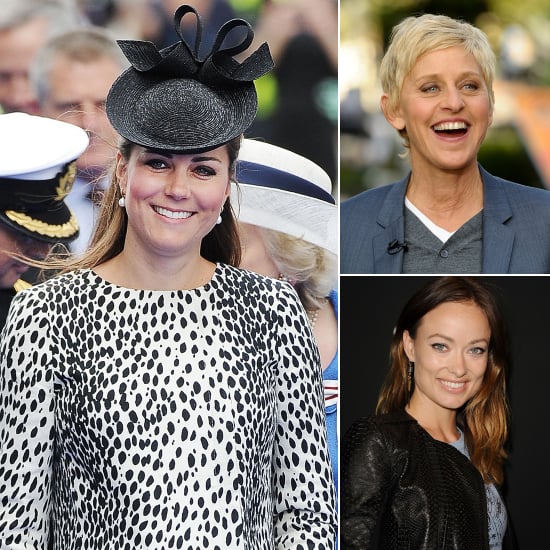 Check out the sincerest, the silliest, and the most hilarious reactions to Kate Middleton's journey into motherhood below!
I would be so honored if they named the royal baby, "Steve Martin."

— Steve Martin (@SteveMartinToGo) July 22, 2013
It's a boy! So happy for my cousin Kate and the future King of England!

— Ellen DeGeneres (@TheEllenShow) July 22, 2013
#GodBlessOurFutureKing very proud to be british right now!

— Kelly Osbourne (@KellyOsbourne) July 22, 2013
It's a boy! Perhaps Anderson? Or Cooper? @andersoncooper @DevnaShukla

— Kelly Ripa (@KellyRipa) July 22, 2013
Congratulations to Kate & William on the birth of their baby boy! So relieved that his name won't include the words Ivy or Apple.

— Joan Rivers (@Joan_Rivers) July 22, 2013


Check out the rest of the celebrity reactions when you read on.
I'm so bored now the royal baby's arrived. It's hot, my nose is blocked on one side cause of hay fever and i cant sleep. i am srsly grumps.

— lilyrosecooper (@lilyrosecooper) July 22, 2013
So pleased to hear that William and Kate had a baby boy. Long live the future king. MBB

— William Shatner (@WilliamShatner) July 22, 2013
upset there could never be a king harry

— christine teigen (@chrissyteigen) July 22, 2013
It's a BOY! #royalbaby I had a feeling it was a boy! Yay! Congrats Will and kate!

— lisa rinna (@lisarinna) July 22, 2013
Woah people seem super excited for this new british band, the royal baby.

— Ellen Page (@EllenPage) July 22, 2013
I don't understand how I'm still doing phone interviews when Kate Middleton is in labor. Don't they have to go cover the crowning?!

— olivia wilde (@oliviawilde) July 22, 2013
Today may be a good day to announce my new EDM DJ name: Royal Baby Labour

— Rashida Jones (@iamrashidajones) July 22, 2013
If Kate & William names their baby one of your kids names, you have to put that kid of yours to sleep. :(

— kelly oxford (@kellyoxford) July 22, 2013
Imagine the weird power rush you'd get from being the nurse assigned to check Kate Middleton's cervix.

— Diablo Cody (@diablocody) July 22, 2013