Celebrity Reactions to Paul Walker's Death
Vin Diesel Gets Emotional While Remembering Paul Walker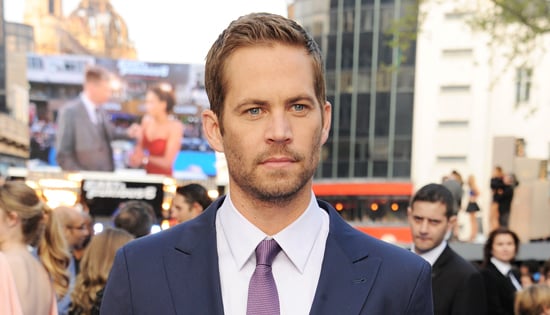 Paul Walker has died at the age of 40. The Fast and Furious star was killed in a tragic car accident on Saturday, and his fellow celebrities are already reacting to the news via social media. Stars like Goldie Hawn, Ryan Phillippe, and Zoe Saldana have all taken to Twitter to share their condolences and express their sadness, as have costars of Paul's, including Vin Diesel, Tyrese Gibson, Ludacris, Rachael Leigh Cook, and James Van Der Beek. Below, we've rounded up some of the heartfelt messages:
From Vin Diesel: "Pablo, I wish you could see the world right now... and the profound impact, your full life has had on it, on Us... on me... I will always love you Brian, as the brother you were... on and off screen."
Vin also visited the crash site, where he addressed a gathered crowd of fans, thanking them for remembering his friend and costar.
All my strength, love & faith to the Walker family during this heartbreaking time. We find our strength.. in his light. Love you brother.

— Dwayne Johnson (@TheRock) December 1, 2013
Our family mourns the loss of Paul. A very special Human being. Our prayers go his beloved family

— Goldie Hawn (@goldiehawn) December 1, 2013
This is awful. Awful. #RIPPaulWalker pls pray for his family, friends & fans. We've lost a great, laid back, sweet, cool man & father

— Gabrielle Union (@itsgabrielleu) December 1, 2013
A very sad day indeed. R.I.P. Paul Walker. Our prayers are with you and your family.

— Zoe Saldana (@zoesaldana) December 1, 2013
"My heart is hurting so bad no one can make me believe this is real Father God I pray that you send clarity over this cause I just don't understand My heart hurts it's broken no one can convince me that this is real.... Prayer warriors please pray real hard for his only child, his daughter and family... #HeartOfAnAngel13YrsFamilyForeverWeJustCelebreatedYour40thBirthday..... My God... My God... I can't believe I'm writing this."
Paul was a truly good person in a town of questionable characters.
..A real life tragedy if there ever was one.

— Rachael Leigh Cook (@RachaelLCook) December 1, 2013
Paul was pure light. I cannot believe he is gone.

— Jordana Brewster (@JordanaBrewster) December 1, 2013
Your humble spirit was felt from the start, wherever you blessed your presence you always left a mark,… http://t.co/nUiPPIU9Bb

— Ludacris (@Ludacris) December 1, 2013
RIP Paul Walker!!

— Melissa Joan Hart (@MelissaJoanHart) December 1, 2013
My heart goes out to Meadow and everyone else affected by this terrible loss. We will all miss you my friend. We love you. RIP Paul Walker.

— Aaron Paul (@aaronpaul_8) December 1, 2013
#RIPPaulWalker -he was a lovely person -so sweet and grounded. My heart goes out to his family. pic.twitter.com/w8Ep7AcKOZ

— Jessica Alba (@jessicaalba) December 1, 2013
Thoughts and prayers tonight are with Paul Walker's friends and family, especially his little girl. So sad. Very heavy heart tonight.

— James Van Der Beek (@vanderjames) December 1, 2013
RIP Paul Walker

— Dane Cook (@DaneCook) December 1, 2013
Such a heavy heart about Paul Walker...my condolences to all his his family and friends. I heard from many what a beautiful soul he was:(

— Emmanuelle Chriqui (@echriqui) December 1, 2013
See more celebrity reactions to Paul's death when you keep reading.
#paulwalker - much love to paul walker. So sad. He gave a lot of joy. http://t.co/MVsZUMvx9T

— James Franco (@JamesFrancoTV) December 1, 2013
Man life is so short. People you care about can be here one min and gone the next Don't take life for granted RIP Paul Walker

— Michael B Jordan (@michaelb4jordan) December 1, 2013
.@RealPaulWalker May he be in peace. To his family you are in our thoughts and prayers.

— Sarah Michelle (@RealSMG) December 1, 2013
Paul Walker was probably the most beautiful American movie actor of the past two decades.

— Bret Easton Ellis (@BretEastonEllis) December 1, 2013
Paul was a good dude. Conscientious & not caught up in Hollywood. He knew there was more to life & lived like it. Nice to know you brotha.

— Ryan Phillippe (@RyanPhillippe) December 1, 2013
I just heard and am in shock. Prayers to Paul Walker's family. Life is precious, never take a day for granted. #RIPPaulWalker

— Vanessa Lachey (@VanessaLachey) December 1, 2013
No, @RealPaulWalker. No. No. No. Rest with the angels. You. Sweet boy. #beauty #love #RIP

— Alyssa Milano (@Alyssa_Milano) December 1, 2013
Just heard the awful news about Paul Walker...so so sad. I've always heard such nice things about him. Prayers to his family :(

— Jenna Dewan-Tatum (@jennaldewan) December 1, 2013
RIP Paul Walker #toofasttoofurious

— Lo Bosworth (@LoBosworth) December 1, 2013
RIP Paul Walker.. Eerie that the star of The Fast & The Furious died in a car accident.. God Bless his daughter

— Mario Lopez (@MarioLopezExtra) December 1, 2013
So sad to hear about Paul Walker. So young. Can't believe it.

— Kevin McHale (@druidDUDE) December 1, 2013
#PaulWalker Life is too short. Seriously cherish every moment. #love to the Walker family. Devastating. He will be very missed.

— Alexander Ludwig (@alexanderludwig) December 1, 2013
Very Very sad news...I'm so heartbroken about this! #PW http://t.co/kxy9ENJAGK

— Rihanna (@rihanna) December 1, 2013
What a tragedy. Cherish every moment with your friends, family & loved ones. You never know what could happen. Heartbreaking #RIPPaulWalker

— Ariana Grande (@ArianaGrande) December 1, 2013
So sad to hear about Paul Walker. He was my hero when I was in my teens. Super nice guy... crazy.

— Frankie Muniz (@frankiemuniz) December 1, 2013
Heavy heavy heart tonight. Paul Walker was a genuinely good, sweet, kind, laid back, loving person. Sending much love to his family.

— olivia wilde (@oliviawilde) December 1, 2013
Dear Paul... Sleep with the Angels... pic.twitter.com/1hJDMyTxHt

— Adam Shankman (@adammshankman) December 1, 2013
Sick about the tragic loss of #PaulWalker. I enjoyed our time together very much. Such a really nice guy. Prayers to his family and friends.

— Carson Daly (@CarsonDaly) December 1, 2013
My prayers and light go out to Paul Walkers friends and family. May you rest in peace.

— Jaime King (@Jaime_King) December 1, 2013
RIP Paul Walker. My thoughts are with you and your family.

— Mark-Paul Gosselaar (@MPG) December 1, 2013
Shocked to hear @RealPaulWalker has passed away. SO SAD. R.I.P.

— Greg Grunberg (@greggrunberg) December 1, 2013
So tragic. Prayers go out to Paul Walkers friends and family.

— Jamie Chung (@jamiechung1) December 1, 2013
My condolences to Paul Walker's family. Rest In Peace.

— Amber Patrice Riley (@MsAmberPRiley) December 1, 2013
Paul Walker???? Oh my god. This is heartbreaking

— Kat Dennings (@OfficialKat) December 1, 2013
I'm so saddened by Paul Walkers death. Beautiful person and talent gone way to soon. #RIPPaulWalker

— Mary J. Blige (@maryjblige) December 1, 2013
Shocked & sad to hear about Paul Walker. Met him several times over the years- a hard worker & always kind. Prayers … http://t.co/wVAKxf97Yr

— Seth Green (@SethGreen) December 1, 2013
So shocked and saddened to hear about the tragic loss of Paul Walker. My love to his family. http://t.co/J1n95Pw2fe - #TeamPW

— Ali Larter (@TheRealAliL) December 1, 2013
Heartbreaking!! One of the most genuine & humble people I have EVER met in this industry.. A TERRIBLE loss, be at peace #PaulWalker

— Wilmer Valderrama (@WValderrama) December 1, 2013
Paul Walker. No.

— matthew lillard (@MatthewLillard) December 1, 2013
I was so shocked to hear about @RealPaulWalker's death. I have been a fan since his #Varsityblues days. Sending love to his daughter.

— Teresa Palmer (@tez_palmer) December 1, 2013
When Paul & I shot The Skulls, had a great time. He was one of the nicest, generous of spirit actors I've ever worked with. RIP Paul Walker

— Hill Harper (@hillharper) December 1, 2013
This Paul Walker news is so sad. Prayers for his little girl and all his friends and family.

— Busy Philipps (@Busyphilipps25) December 1, 2013
RIP Paul Walker,loved working with you on "Into the Blue". I Will miss you.

— Tyson Beckford (@TysonCBeckford) December 1, 2013
Shocked and stunned by the news of #PaulWalker. RIP. Far too young and far too sudden.

— Josh Gad (@joshgad) December 1, 2013
It's hard to believe we have to say this. Rest in Peace, Paul Walker. You'll be missed.

— Golden Globe Awards (@goldenglobes) December 1, 2013