Celebrity Shark Week Tweets
Even Leonardo DiCaprio Loves Shark Week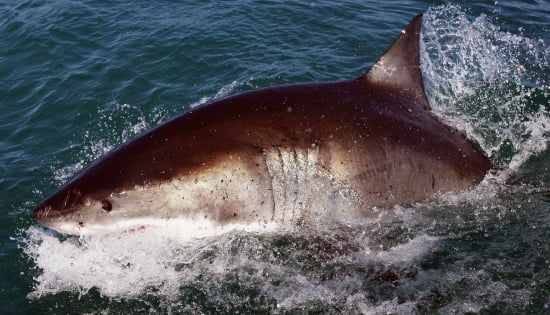 It's that time of the year! Discovery Channel's annual Shark Week is under way, and if you have caught fin fever you're not the only one. Many celebrities have been taking to their Twitter accounts to share their excitement about the weeklong phenomenon. See all the stars who are obsessed with shark week.
#AlienSharks tonight at 10pm/EST on @Discovery for #sharkweek 2nite. These are amazing animals @ConservationOrg

— Leonardo DiCaprio (@LeoDiCaprio) August 8, 2013
Shark week!

— Jessica Biel (@JessicaBiel) August 5, 2013
Can't wait for #sharkweek. Amazing video to prep -­ http://t.co/rBggQRFASJ ­‐ counting down.

— Elizabeth Banks (@ElizabethBanks) July 31, 2013
Swimmin' in the ocean and you see a little motion - here comes the big fin, sharky wants his din-din! #sharkrap

— Fallon.eth (@jimmyfallon) July 31, 2013
Keep reading to see more celebrity Shark Week tweets.
2 words. SHARK WEEK. Tonight. Im so excited. I can't. Omg. Djcisjsncjjens aaaahhhhhh

— Ashley Tisdale (@ashleytisdale) August 4, 2013
Bruce says good afternoon. #sharkweek ;) http://t.co/IG75gBT8xf

— Vanessa Hudgens (@VanessaHudgens) August 6, 2013
August 7, 2013
SHARK WEEK #dontBfood grrr RT @lafromky: @SamChampion My little land shark won a costume contest. pic.twitter.com/Ramcu87PIz

— Sam Champion (@SamChampion) August 7, 2013
Happy Shark Week my people

— Macklemore (@macklemore) August 7, 2013
Selfie in geezer hat at one of the safer places to be during #sharkweek. Well done @TurnberryBuzz pic.twitter.com/3OHdsHDLkl

— Craig Ferguson (@CraigyFerg) August 7, 2013
Back to shark week. Gnite my good friends. Spelling problems and all...nothing but love. ;)

— Hope Solo (@hopesolo) August 7, 2013
It's #SharkWeek….wake me when it's Sharknado Week.

— Hank Azaria (@HankAzaria) August 7, 2013
I LOVE #SharkWeek!!!!!!

— Melissa Rycroft (@MelissaRycroft) August 6, 2013
Fun fact for #sharkweek RT @TheAtlantic: Why don't sharks get cavities? http://t.co/HvNF19ze9O

— Katie Couric (@katiecouric) August 6, 2013
It"s all about Shark Week!

— Tara Reid (@TaraReid) August 6, 2013
same thing. RT @Quichetastic The hell with shark week! It's #Jesseweek @JohnStamos on Nickelodeon

— John Stamos (@JohnStamos) August 5, 2013