Chad to Hilary: I'll Always Love You
Chad to Hilary: I'll Always Love You
While Hilary is keeping busy working on her current film PS I Love You with Harry Connick Jr., Chad Lowe is busy talking about how he will always love his ex-wife. He revealed details of their relationship to Extra last night and talked about everything from his past substance abuse to his special bond with Hilary. Here's highlights: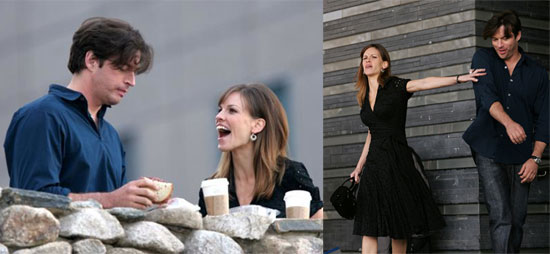 "It has been a tough year and not something I expected," Lowe admitted. "It's very humbling."

One of the most humbling moments came this summer when his ex-wife divulged to Vanity Fair some of Chad's most private struggles with substance abuse.

"I was disappointed that the details of our relationship became public fodder, because I think they were very personal," Lowe said, adding, "They are absolutely true. I've been sober for three and half years and am very grateful for that.

"The one thing I do want to set straight is that I am so grateful to Hilary for her support of me in a very difficult time in my life three and a half years ago," Chad continued. "What hurt me more than anything is that people would think she wasn't there for me; and she was."

Despite the divorce, Chad also dished to "Extra" that his bond with Hilary is unbreakable.

"She was the love of my life and that's not something you just shut off. I will always love her," Chad admitted.
And it looks like things are going well for Chad. He's set to star on 24 next season and he's also directing and producing Beautiful Ohio with William Hurt and Michelle Trachtenberg. Looks like both of them are moving on, at least professionally. For more pics of Hilary and her castmate Harry Connick just read more