Chicago Celebrates 10 Years
Chicago celebrated their 10 year anniversary last night with a very special performance that brought out all the stars who have taken part in the musical. Brooke Shields, Melanie Griffith and Ashlee Simpson were all there for the special night, but what everyone was talking about was Melanie's Roxie performance. Here's more: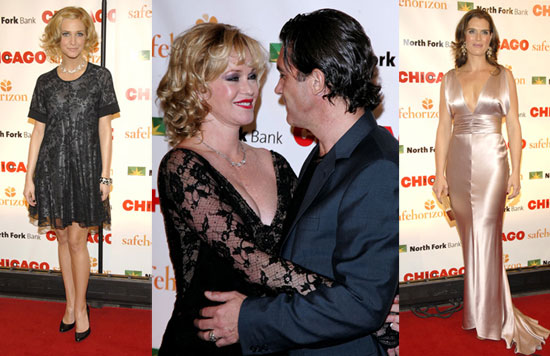 ...the evening's most endearing moment occurred as Melanie Griffith started to sing and dance the song "Roxie." A lighting malfunction caused a persistent loud flapping sound as director Walter Bobbie raced to the foot of the stage. He asked Griffith to begin the number again after the problem was fixed. "I guess this is take two," a game Griffith giggled as theatergoers roared their approval.

There were multiple Billy Flynns on stage, too. The opportunistic lawyer was portrayed not only by the original, James Naughton, but by Gregory Harrison, Huey Lewis, John O'Hurley, Kevin Richardson and Christopher McDonald, among others.

"This is a cast made in theatrical heaven," said producer Barry Weissler after the scores of performers took their tumultuous curtain calls. He was joined on stage by Fran Weissler, his wife and co-producer, who summed up the evening by saying, "Except for giving birth, this is the most exciting night of my life."
Many more pics from the evening including a very pretty and once again very different looking version of Ashlee Simpson as well as Brooke, Backstreet Boy's Kevin Richardson and more so read more