Christina On Marrying Adam and Sex Scenes with JT
Christina Ricci and Adam Goldberg got a little shopping done in Hollywood last night. The two may have broken up and sold their house last year, but they're back together, living around the corner from each other and look happier than ever. Christina says in June's issue of Tatler that she's at a point in her life where she's ready to settle down. And as a little bonus, she talked a bit about working with JT in Black Snake Moan, too. Here are highlights: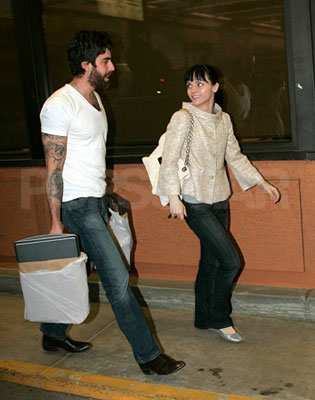 On getting married: "I think about that a lot," she says. "Sometimes it sounds really good, but then I'm not actually sure I'd want to go through with the wedding. Although I feel like if we didn't have a wedding, my family would be mad at me, and Adam's family would be mad at him....That's just a whole thing – I don't want to deal with it because you know you're going to get in trouble. I just want to be married, or just engaged. Basically, I just want a ring. And the tax break."
On working with JT: "He also never acted like anything I was doing was weird. In one scene we did together I had no underwear on, just a shirt, and later he told me he'd been really shocked by that. But he acted, God bless him, like it was totally normal what I was doing, so that was sweet of him."
That Justin, always a gentleman. As for Christina and marriage, while we would love to see her in a wedding gown, it sounds like eloping might be more her speed!