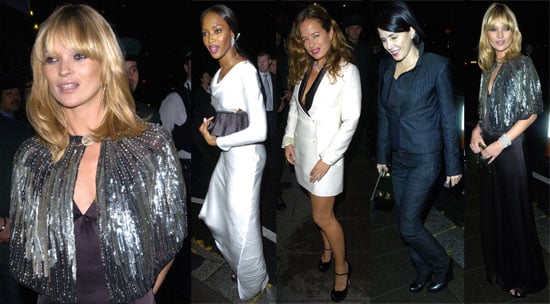 0
Christmas Comes Early for Kate Moss and Topshop
Kate Moss launched yet another line for Topshop, this time her Christmas collection (check out a peek at it here), in London last night. Kate was showing off her glamorous new 'do alongside friends like Naomi, Sadie Frost and Jade Jagger. That sequins number is getting me in the mood for the impending holiday party season, but we've got to get through that day at the end of this month first. Kate's come a long way since her 90's days with Calvin Klein, but her early modeling look will always be iconic and according to Fab, that "Heroin Chic" could even make a saucy and sassy Halloween costume. See how to make it work here and then check out the rest of her Halloween ideas — from Carrie Bradshaw to Dazed and Confused Senior B*tches. Only a few weeks left to get that costume ready!
To see more from the party including Jamie Cullum, Lily Allen, Sir Bob Geldof, Sophie Dahl just
Images include Jade Jagger, Jamie Cullum, Kate Moss, Katherine Jenkins, Lily Allen, Naomi Campbell, Phillip Green, Sadie Frost, Sir Bob Geldof and Sophie Dahl.