Christoph Waltz Interview at Oscars Luncheon
Christoph Waltz Jokes That He Owes Quentin More Than He'd Like to Admit at Oscars Luncheon
This year, Django Unchained star Christoph Waltz is up for his second Oscar nomination — for the second Quentin Tarantino film he's appeared in. When the actor talked to the press at the Oscars Luncheon this afternoon, he copped to feeling indebted to the director, and also admitted just how nervous he is about Oscar night.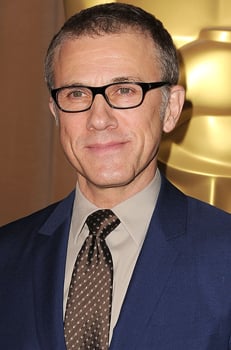 On how he has celebrated his Oscar nomination: "Nervous anticipation. So I don't really consider nervous anticipation a reason to celebrate. We don't talk much about it at home, and we all know it. That's fine for now."
On whether he had any idea he would be so rewarded for his roles when he met Tarantino: "If I start to think about nominations and awards before I even start the work, [that's] literally putting the cart before the horse."
On whether he feels like he owes Tarantino for his success: "I owe Quentin more than I would like to admit."