Christopher Plummer Quotes Golden Globes Press Room 2012
Christopher Plummer Brings Humor and Talks "the Human Condition" in Globes Press Room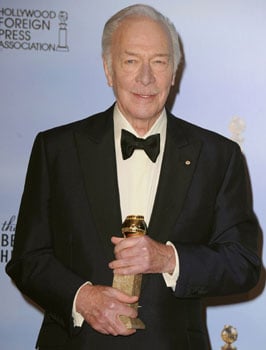 Christopher Plummer was the first winner at this year's Golden Globe Awards, receiving the best supporting actor trophy for his work in Beginners. On stage Christopher apologized to his fellow nominees, which he also joked about when he went backstage to the press room. Here's what he had to say:
On all the nice things being said about him: "Usually no nice things are said about me at all, so it's a great relief."
On the antigay protests outside the awards: "Gay characters are human beings. we're all exactly the same. That's the reason I played it the way I did, not as a caricature. They're a part of our society since the Egyptians, the Greeks — it's part of the human condition. I know there is a lot of antigay sentiment in our society at the moment and I abhor it."
On apologizing to his fellow nominees: "That was humor. I always like to salute my competitors since no one is better than the other, it just happens that someone has to win. If it's me, that's wonderful, but I must congratulate all of them because they are wonderful."
On what about this role in particular affected him: "This role particularly affected me because it was such an understated human kind of creature that I hadn't played for a long time. It's someone's actual father, the director's real father, so I was really apprehensive about it at the beginning. Michael told me to be myself which I did, which is also my father."