Claire Danes on the Cover of Emmy Magazine Picture
Claire Danes Transitions From Emmy Winner to Homeland Star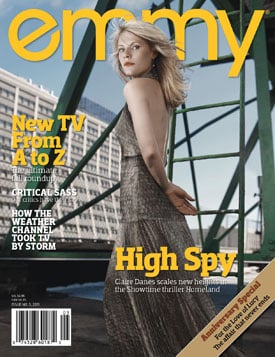 Claire Danes strikes a bold pose for the latest issue of Emmy Magazine, the official publication of the Academy of Television Arts & Sciences, which hits newsstands Sept. 13. Claire went on a winning streak during last year's awards season that began with her outstanding lead actress in a miniseries Emmy win for her role in Temple Grandin. She went on to earn a Golden Globe and SAG statue for her performance. Claire's now tackling a new cable project, playing a CIA officer in Showtime's series Homeland. Claire shares with the magazine about portraying a covert agent, kissing Jared Leto on My So-Called Life, and her childhood acting dreams. Here's more:
Claire on her childhood ambitions: "I wanted to be on stage. Then I discovered that actors typically don't make much money, so I decided I'd be a therapist and live in the suburbs next door to my best friend."
Claire on preparing to kiss her My So-Called Life costar Jared Leto: "Kiss his face? How do I kiss his face?"
Claire comparing CIA officers to actors: "I'm speaking in an assuming way, but the CIA, they do play roles all the time. And they do have to forge intimacy easily with strangers. And they are con men. And, you know, they actually create characters. But that's kind of where the comparisons end. The work they do is for real and the work we do is in fantasy."