Claire Danes Emmy Interview in Press Room 2012
Emmy Winner Claire Danes Says "It's Way Cool" That Obama Is a Homeland Fan
Homeland star Claire Danes won the Emmy for outstanding lead actress in a drama series, and when the actress came to the press room, she talked about why she thinks the show, which also won for best drama series, is such a success. Danes addressed the fact that she plays characters with challenges, and how she prepares for those roles. The pregnant star also talked about the show's most famous fan, and how that makes the cast and crew feel.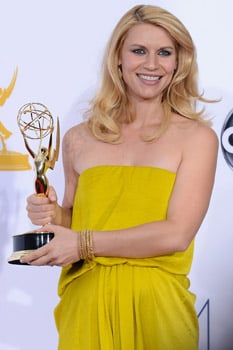 On how it feels to know that President Obama watches Homeland: "No pressure! It's way cool that he's a fan. It speaks to the relevancy of the show. It's hugely validating. I don't have to write the thing: I just have to play the thing convincingly. We're still stupefied by that fact, that he's tuning in consistently."
On why Homeland is so popular: "It's not so preachy, which is, in some way, why it carries its message so well. I don't think it's a particularly political show; I think it's a psychological thriller. It talks about some very big ideas, but it doesn't take a very biased position. It does speak to our feelings of anxiety and unrest right now. We're in a new era where the enemy is not so clear."
On how she hopes to tell her unborn child about the experience of winning an Emmy: "I think it's going to be some time before my child cares at all about this, if ever. It's great. That's the big award. It does put things in perspective a little bit. It's very nice. This person may not care, but I do."
On the challenges of playing characters like Temple Grandin and Carrie Mathison, who have Asperger's and bipolar disorder, respectively: "I find these conditions incredibly fascinating. It is a coincidence that they both came up, these characters, in such a quick succession, but I really love the process of learning about them and representing them, rendering them, in hopefully a realistic way. I don't think that they are talked about on such a big stage, and I'm very privileged to have a chance to participate in that."
On her favorite TV shows: "I love Louie. That's kind of my favorite. Girls is another favorite. I love Breaking Bad; I love Mad Men. There's kind of a glut. Damages is incredible, The Good Wife . . . big fan, big fan.