Claire Danes in Glamour Magazine January 2014
Claire Danes Dishes on Her Guilty Pleasures and Hot Husband
Claire Danes may play a troubled CIA agent on Homeland, a role that's won her multiple awards, including two Golden Globes, but she seems anything but in her interview with Glamour. Claire sat down with Logan Hill for the magazine, which hits newsstands on Dec. 10, to chat about her guilty pleasures — strawberries, really?! — and open up about her sweet relationship with husband Hugh Dancy. She even addressed her much-memed "cry-face" — read on for more from Claire Danes in Glamour's January 2014 issue: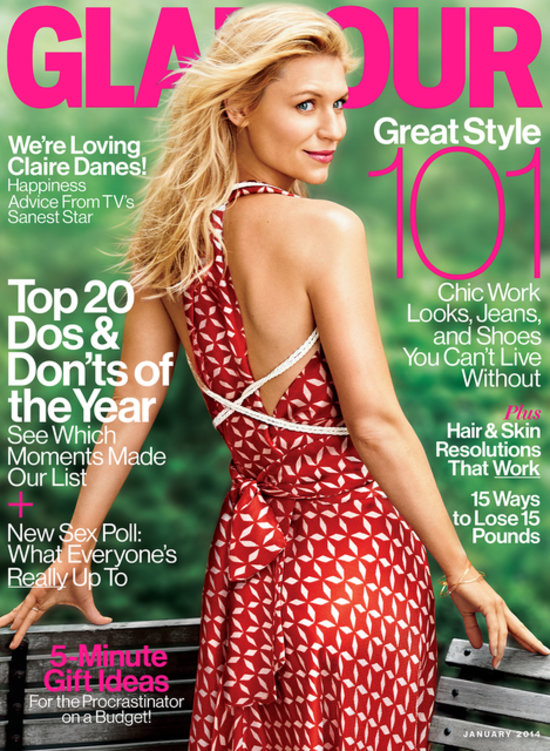 On her guilty pleasures: "I have a lot of shoes, I buy a lot of shoes, it's true. That's a little shameful. Oh, and I like chairs, I have a real affinity for chairs. Chairs and lighting fixtures — and shoes and strawberries."
On keeping things fresh with her husband: "People talk about 'date night,' and it is true: Sometimes you have to apply yourself, or at least apply lipstick to yourself. You kind of have to dress up, just because. You know, wear heels to your own dinner table. Sometimes it feels totally absurd, 'cause we're just going down the block and he's wearing his 'smart' blazer. Like, who are we kidding? We know where this is going: We're going back home to watch Breaking Bad. Still, those gestures are important. It just hasn't stopped being fun."
On Hugh: "Well, it's true that you often kind of forget to see the person you're most intimate with, but occasionally I'll come to and sort of think, Oh my God! You're really, really good-looking! [Laughs.] I'm embarrassed now! It's nice to occasionally have that flash."
To see what Claire had to say about her cry-face, just read on.
On her infamous cry-face: "I think people are made uncomfortable by uncensored expressions of emotion. But, you know, that's my job. I don't have those fears. I really have never been concerned about being beautiful on-screen. That's just not my jam. I'm concerned about it if I'm playing a beautiful character. But it's not relevant for Carrie. I don't need to worry about that, and I think that's really great. I love sitting in the makeup trailer and getting my makeup done in 15 minutes as opposed to an hour and a half."

Photographed by Norman Jean Roy