Claire Danes Golden Globe Awards Interview 2013
Claire Danes Gushes About New Mom Job and Scrumptious Son at Golden Globes
Claire Danes won yet another Golden Globe Award for her work on Homeland. The new mom, decked out in a stunning red dress, came backstage after to chat in the press room about her latest statue and what it has meant to take on this latest role with her baby son, Cyrus.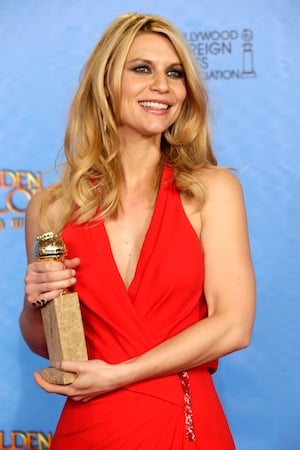 On her love for the Golden Globes: "I love this experience. I love the experience — obviously, I like the choices the HFPA makes. They make very fresh, daring choices all of the time. It's also a great party. It's a great time to get drunk together, but I'm not doing much of that because I have to go up and feed the baby."
On staying sane while playing Carrie: "I don't have to because she's not sane. I don't know. I really do try to leave the work behind when I come home. I am getting better at it with each passing day. I trust myself as an actor now and trust the material enough to let it go and know it will be there the next day. There are rituals, subconscious rituals that let you enter and reenter this world."
On how becoming a mother has changed her: Well, it's so new; I'm not sure how it's changed me yet. I am very strapped into this dress. It's Versace and they are masters of illusion. I literally cannot go to the bathroom without taking this whole thing off. I was working and on my feet the entire pregnancy, so I didn't have a chance to gain much weight."
On becoming a mom: "It's been a huge job becoming a mom, but I don't know how to articulate it yet because it's so new. I can't imagine any other reality now and I want everyone to join in on the fun."
On being a working mom: "I've been very, very lucky in that I've had a night nurse, which is rad. It's like another 4 a.m. call, which I've had a lot. I'm sort of used to being sleep-deprived, but this is taking it to another level. There is no weekend off, but it's amazing. Just his smell, his scrumptiousness."