Claire Danes Golden Globes Press Room Quotes
Claire Danes Hits The Globes Press Room to Talk Patriotism and Becoming Carrie on Homeland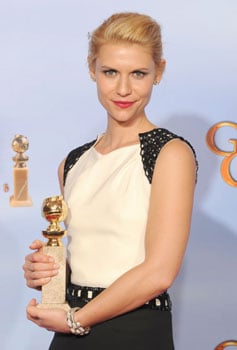 Homeland is already having quite a night at the Golden Globes! The show took home best dramatic series, and when the cast stepped back to the press room, the creators revealed a little about what we can expect in season two, saying, "Don't expect next season to start where this one left off. The Brody-Carrie relationship is going to be front and center. The international aspect of the show, we plan to exploit that and shoot on some fun locations." Just a few minutes later, Claire Danes won for playing Carrie, which brought her back to talk as well. The HFPA member who brought her on stage introduced Claire saying, "We have Claire Danes, who we see here every year.":
On how Homeland has changed her as an actress and an American: Which comes first? It's been a real blessing this role. It's very, very unusual that I get a chance to take a character like this on. So layered, so dynamic. I've never seen a character this layered. It's a great thrill to be able to explore something that interesting. The quality of writing on this show is spectacular. I'm having a fabulous time with that. I certainly got a work out this season. They asked me to do more than I've ever been asked to do. It was fantastic to develop that flexibility and strength, but it's exhausting. As an American, when I met with people and agents from the CIA, I was really struck by their patriotism. That's something I've taken for granted and I guess I have learned through this story that it's something to take more seriously.
On knowing Homeland would be a hit: One never knows. It's always a risk whenever you start any project, but I was absolutely riveted by the pilot and I trusted Alex and Howard to be able to sustain that level of writing through this season and seasons into the future. It's a leap of faith and I'm just so profoundly relieved and more than flattered to think that is has captured the audience's imagination. It has really landed and resonated.
On Homeland changing the way she sees the news: Maybe it has to a certain extent. I think the older I get the greater responsibility I feel about being a citizen and being an American. I pretend to be this person more than anything else. We should all be very grateful that I am not actually in homeland security, since we would not be that secure. Carrie is much better at that than I am.
On researching the character: It was a pretty elaborate process. I like nerding out in that way. I like having a homework assignment of this scale. I delved into a lot of books about the CIA and bipolar disorder. I work with a CIA officer who is very senior and introduced me to people. I happen to have a number of friends who are psychologists, who I talked to about their bipolar clients. I actually went on YouTube, which was a really valuable resource. There is a lot of material. Bipolar people who are up all night and have no one to talk to, talk to the camera, and post it. I gorged on these videos. I tried to extrapolate from that. I have great respect for the illness. It's no joke.