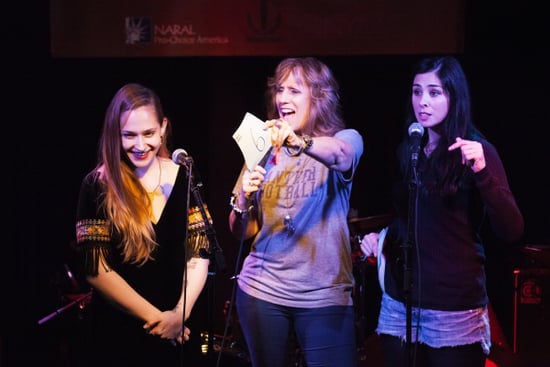 A group of Hollywood ladies teamed up for a pro-choice telethon on Monday night, raising money and awareness for those affected by Texas laws on women's health care. Over the Summer, the state's legislature made headlines when people rallied over an abortion bill, which was eventually signed into law by Governor Rick Perry. The law bans most abortions after 20 weeks, increasing restrictions for abortion clinics across the state, and hundreds of activists from both sides flooded the Texas Capitol building to voice their opinions. Since being signed into law, it's remained a heated topic of debate in the courtroom and among women. Monday's pro-choice telethon was appropriately called Clear Eyes, Full Hearts, Can Choose, a reference to the Friday Night Lights tagline "Clear eyes, full hearts, can't lose," which was a mantra for the show's Texas high school football team.
The telethon was hosted by Sarah Silverman and The Daily Show cocreator Lizz Winstead, who were joined by Amy Schumer, Alexa Chung, the cast of Orange Is the New Black, Girls star Jemima Kirke, and more, and by the end of the night, they'd raised $50,000. Throughout the event, there were performances and celebrity appearances, and #TexasWomenForever started trending on Twitter.
At one point, The Newsroom's Emily Mortimer answered phones, before Alexa Chung got on the line.
Fans were freaking out, excited to chat with stars when they called in:
still thinking about that time tonight when i talked to jemima kirke on the phone tho

— Katrina Lipinsky (@Katweeta) November 19, 2013
Find out more about the event and the stars who attended when you keep reading.
Texas State Senator Wendy Davis, who's running for governor, also gave the event a shout-out on Twitter.
Thank you for standing for women's access to healthcare in Texas. #TexasWomenForever

— Wendy Davis (@WendyDavisTexas) November 19, 2013
And, true to form, the night's comic host took a more exaggerated approach to her Twitter commentary.
"I look forward to the day you can get an #abortion at a Whole Foods," @SarahKSilverman #TexasWomenForever

— Lady Parts Justice (@LadyPJustice) November 19, 2013
Watch the full live stream replay below: