Clooney Considers Dating All of Hollywood
Don't jump to conclusions if you see George Clooney walking down a beach holding hands with Halle Berry or Leonardo DiCaprio any time soon. No, he hasn't gotten his sexual orientation confused, he's just trying to mess with the paparazzi. We know George loves a good prank. The sexy man will be this month's VF cover boy and we can't wait to get our hands on the issue. In it he reveals his master plan to screw with us when it comes to his love life. Here's more: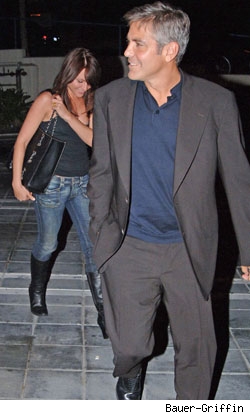 "Here is my theory on debunking photographs in magazines, you know, the paparazzi photographs," Clooney says in the November issue of Vanity Fair, on newsstands Oct. 10.

"I want to spend every single night for three months going out with a different famous actress. You know, Halle Berry one night, Salma Hayek the next, and then walk on the beach holding hands with Leonardo DiCaprio."

"People would still buy the magazines," he explains, "they'd still buy the pictures, but they would always go, `I don't know if these guys were putting us on or not.'"
It's good to know that while fame may have an influence over his love life, it hasn't taken away his sense of humor. Not like I object to George going out with a different actor or actress every night, it just seems like a lot of effort for a prank. Besides, he clearly is more into dating models. They're more his type like his latest lady, Nancy Stelmaszczyk from "Deal or No Deal" who he was photographed with this weekend. Still, we would pay for the issues of People and US with George and Leo walking hand in hand on the beach.