Clooney Plays Ladies' Man With Matt's Help
Clooney Plays Ladies' Man With Matt's Help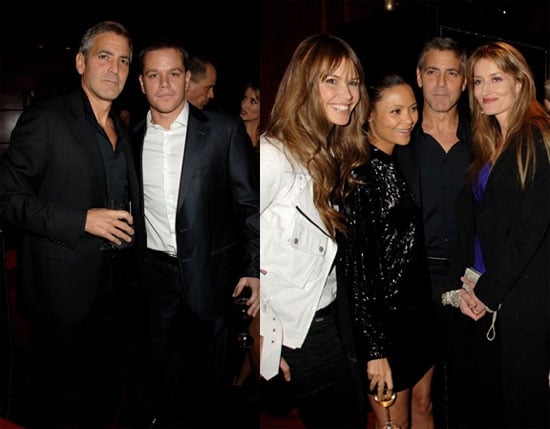 0
Clooney Plays Ladies' Man With Matt's Help
George Clooney was the man of the hour in London tonight and had plenty of ladies at his disposal at the Harper's Bazaar dinner in his honor. Editor Lucy Yeomans played host, while Elle Macpherson, Jemima Khan, and Thandie Newton (or should we say Condoleeza Rice?) were just a few of the lucky women who rubbed elbows with Mr. Clooney. George was gracious enough to let a couple of other guys sneak past the door, and had a little reunion with his buddy Matt Damon. Sarah Larson was noticeably absent from her man's side, but we all know that he's still defending her honor between all the dinner parties.
More of Clooney partying with his many lady friends, so just
.
Images include: George Clooney, Matt Damon, Natasha McElhone, Helena Bonham Carter, Tim Burton, Jemima Khan, Elle Macpherson, Thandie Newton, Mariella Frostrup, Lucy Yeomans.