Come Inside J Lo's Home
Come Inside J Lo's Home
Like we promised, here are the pics of J Lo and Marc Anthony's Long Island home as seen in the special edition of Vogue Living. The house which is described as an antebellum redbrick mansion, is of course, incredibly elegant. Not that we'd expect anything less from J Lo. Marc bought the home before they were a couple but they wanted to combine their different styles and make it something they could both enjoy. Here are a few highlights: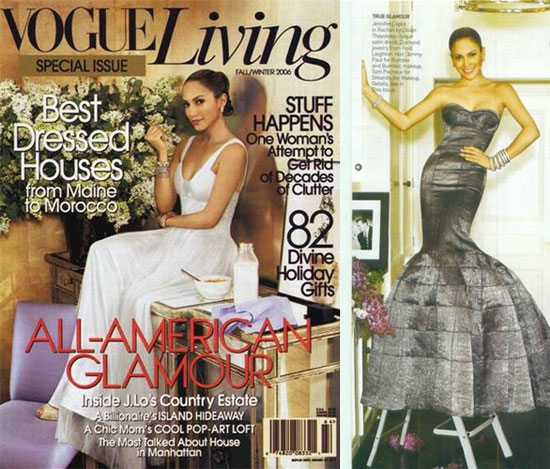 "I go a bit more for the drama," says Lopez, while her husband's taste is "very bohemian as you know some musicians can be. But I can appreciate the bohemian side and he also appreciates glamorous things, so it was easy for us to meld."

"Of course I needed a little more closet space," says Lopez coyly. She co-opted an old bathroom for the purpose....Here are many of the iconic Lopez gowns that have brought her applause and occasional catcalls on her red carpet appearances...."The Oscars, for some reason, ruin your dress," Lopez explains,"It gets snagged and pulled and people step on it. It's a mess!"
Jennifer just looks stunning in this Rochas satin dress. We bet it also has a special place in that huge closet of hers. For more pics of their gorgeous house just read more