Conan O'Brien Tweets About Fifty Shades of Grey
The Funniest Celebrity Tweets of the Week
With the sad news that the Fifty Shades of Grey movie has been delayed, Conan O'Brien took to Twitter to describe the welcomed pain Christian fans must feel. In other comical tweets this week, Chrissy Teigen clued us in on her mother's slightly creepy yet sweet iPad background, and both Kristen Bell and Lena Dunham revealed what happens in their dreams.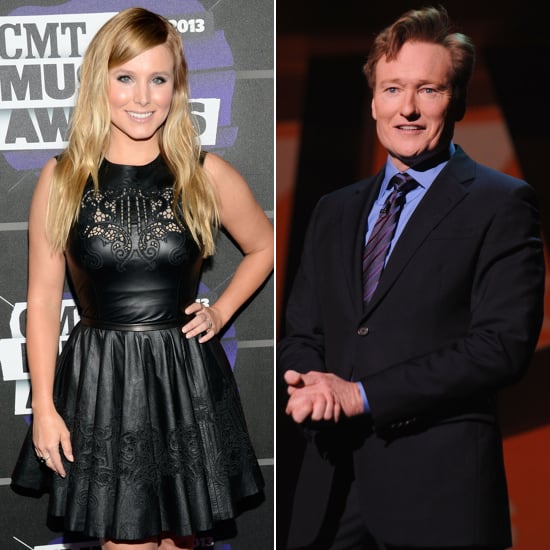 Check out all that and more in our favorite funny tweets from the week!
The anticipation has us biting our lips.
The "50 Shades of Grey" movie will be postponed until 2015. For "50 Shades" fans, that's agony - sweet, sweet agony.

— Conan O'Brien (@ConanOBrien) November 14, 2013
Which songs? Do tell, Kristen.
Last night, @daxshepard1 and I both had dreams about @cher. I hope we both get her again tonight. We love u @cher.

— Kristen Bell (@IMKristenBell) November 12, 2013
We've all been there, Lena.
That recurring nightmare where you just can't ace the captcha

— Lena Dunham (@lenadunham) November 11, 2013
What do Hollywood and Toronto have in common?
The only two jobs where you can admit to smoking crack and buying illegal drugs without getting fired are movie star and Toronto mayor.

— Michael Ian Black (@michaelianblack) November 13, 2013
John Legend has his mother-in-law's stamp of approval.
This is my mom's iPad. Thanks mom. pic.twitter.com/j608DoNZbZ

— christine teigen (@chrissyteigen) November 14, 2013
Read the rest of the funny tweets after the jump!
We'd watch the live stream, for sure.
Good thing I have to work, because I would watch this Toronto city council intervention with the Mayor all day. This shit should be on PPV!

— Official Wanda Sykes (@iamwandasykes) November 13, 2013
So Ellen, where exactly do you fall on the family tree?
Happy birthday to my cousin-in-law, Charles, Prince of Wales! Love Ellen, Queen of Kitty Cats.

— Ellen DeGeneres (@TheEllenShow) November 14, 2013
Sarah Silverman gave us a history lesson.
Noah was the first Doomsday Prepper

— Sarah Silverman (@SarahKSilverman) November 10, 2013
Rebel Wilson pulled your heartstrings for People's Choice votes.
Plus, seeing as I have no current love life, awards are the only thing to keep me warm this winter x

— Rebel Wilson (@RebelWilson) November 7, 2013
Rob Delaney is the next big story.
.@60Minutes So you guys just report whatever now right? Because "sources" say I'm very good at sex & women should have sex with me.

— rob delaney (@robdelaney) November 11, 2013
Aisha Tyler is the queen of shout-outs.
Bourbon cocktail by the brill Stephanie Izard. Elephant sweater by Aqua Cashmere. Ridiculous face by… http://t.co/1KRZL8M6hU

— Aisha Tyler (@aishatyler) November 12, 2013
We sure hope you don't forget any of them, Dane.
You'll never forget your first restraining order.

— Dane Cook (@DaneCook) November 9, 2013
Bette Middler knows her politics.
Anesthesiologists thought the whole idea of Obamacare was a gas, and the snooty Cardiologists didn't have the heart to say no.

— Bette Midler (@BetteMidler) November 10, 2013