The Courtney Love Diaries
Courtney Love is clean and sober and out promoting her new tell-all memoir called "Dirty Blonde: The Diaries of Courtney Love." In the book she talks all about her past, including Kurt Cobain, daughter Frances Bean and her famous drug addiction. Here's more: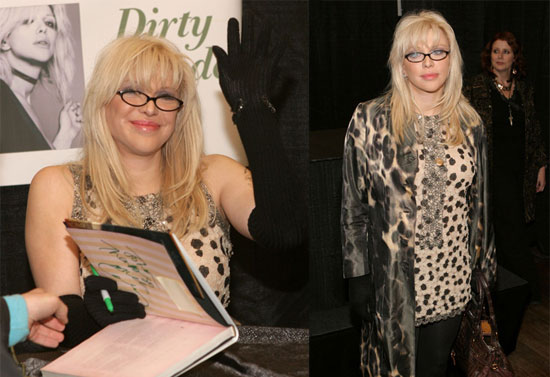 Now sober for 15 months, Love writes that if she could, she'd put "a black page in this book and just write 2001 to 2004 across it," because "I was on drugs and nothing I wrote made any sense."

Love says another troubled star helped her seek rehab and get clean.

Love was holed up in a fancy hotel room in Beverly Hills, doing drugs, when Mel Gibson and addiction counselor Warren Boyd knocked on the door.

"Mel kept coming to the door with this cheesy grin going, 'Hi!'" Love said. "I just kept looking at him going, 'Blank off!' … I know him and he's a nice guy, but it just didn't matter who it was. It could have been Jesus. I didn't care."

But the men doing drugs with Love recognized Gibson and left with him to get a cheeseburger. That gave Boyd the opportunity to get into the room and coax her into rehab.
Mel to the sober rescue. Somewhat ironic isn't it? Well let's hope Courtney stays sober for Frances at least.