The role of Lucy Ewing was being sought after by many in young Hollywood. Names like Jessica, Lindsay, Paris, and Kristin were being thrown around as the possible actresses to work with J Lo and John Travolta in the big screen version of the hit TV show. Turns out producers went in another direction and took a virtually unknown actress named Katie Cassidy, the daughter of David Cassidy. US Weekly reports: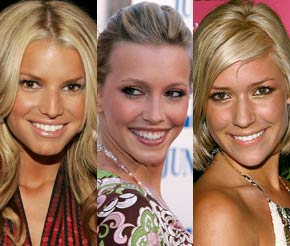 7th Heaven actress Katie Cassidy, 19, has beaten out Jessica Simpson and Kristin Cavallari for the role that they were both up for in the new Dallas movie (also starring J. Lo and John Travolta's enormous head). Cassidy, who is the daughter of former teen idol David Cassidy and most recently starred in the film Click, will play the character Lucy Ewing.

"Producers wanted to steer clear of the drama and also thought Katie was simply better for the role," a source tells Us Weekly.
And by staying away from drama that meant that J Lo supposedly did not want another diva on the set. I wonder if the producers saw how easily Katie seems to be able to go from innocent to provocative?