Critics' Choice Awards LiveStream
Join Us LIVE! From the Critics' Choice Awards Today!
Join POPSUGAR on the red carpet and backstage at the 18th Annual Critics' Choice Awards! POPSUGAR Editor Lindsay Miller will be LIVE on the red carpet interviewing some of Hollywood's biggest stars as they make their way to the show. Then, stay tuned as we move backstage into the winner's circle for our LIVE Google+ Hangout backstage. We'll interview tonight's winners after they've accepted their awards, and be joined on our Google+ Hangout by a panel of fashion, celebrity, and movie experts to discuss the award show's most memorable moments, red carpet highlights, and more. You won't want to miss it!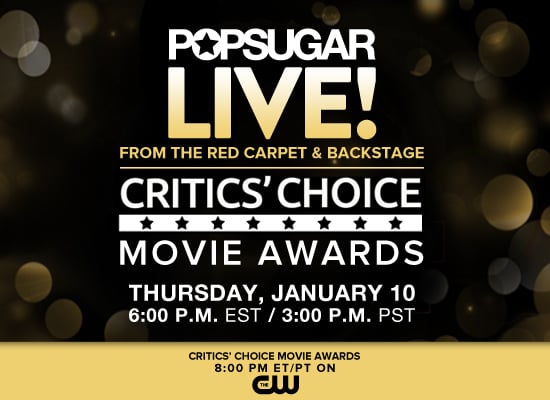 It all starts right here on POPSUGAR.com Thursday, Jan. 10 at 6:00 p.m. EST / 3:00 p.m. PST, and catch the Critics' Choice Awards at 8 p.m. EST/PST on The CW.
Watch Now!