The Cruises Continue Celebrating
It has been confirmed that Tom and Katie are having a lavish wedding party. Tom's partner Paula Wagner is planning a party for December 9th at her mansion in Beverly Hills. All those friends and family members who didn't attend the Italian wedding will now have their chance to celebrate the big day with Mr. and Mrs. Cruise. US Weekly reports: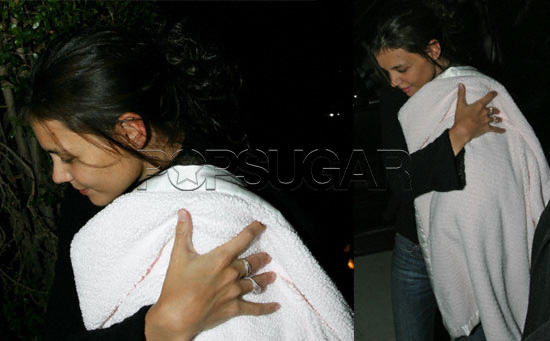 The party is fresh on the heels of the couple's 13-day honeymoon. The new Mr. and Mrs. Tom Cruise spent November 19 to December 1 in the Maldives on the Arctic P, a yacht with an onboard doctor (for Suri) and spa therapist.

"It was a family occasion," says a source. "They played with Suri all the time, filming her on a camcorder." On Thanksgiving, the group visited a Fesdu Island resort where, says a source, "they sunbathed by the pool, read philosophy books and went snorkeling in the lagoon. Later, they took Suri for a swim."
Can't wait to hear about all of the details of what is sure to be a fabulous party. I wonder what Katie will wear this time. In the meantime, Katie is cruising around town trying to keep Suri undercover but proudly showing off her huge ring.