Cute Kingston Makes Work Easy for Gwen
How cute is Kingston with his little fauxhawk? The kid just won't quit! And we love how Gwen and Gavin just take him everywhere they go so we get to see him all the time. Gwen said soon after Kingston was born she realized he had the kind of temperament that would allow her go back to work. She said some other cute things about her son. Here's highlights: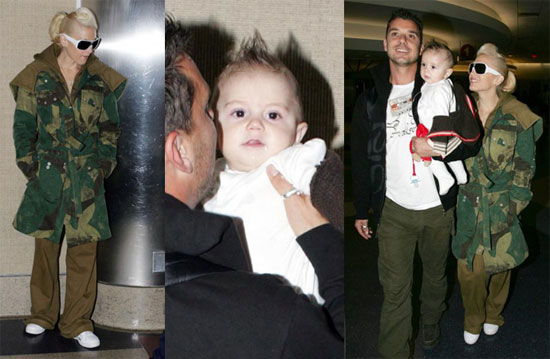 "He's generally an easy, cool guy; he's busy and he's having a lot of fun," she said. "He makes everything so much fun. I'm nursing, so he's around me the whole time, and he definitely balances me out. It was fun before, but now it's fun in a whole different kind of way. Normally, I would get more rest, but I figure I can rest later."
"In five years, he'll be in school, and in five years, I'll be in my 40s," said Stefani, 37. "So I'm doing what I can right now. If you saw me in my day-to-day life, you'd see my work and my career [are] all fun, pretty much. I don't go off to work without him. Right now, he's to my left, and my stylist is holding him and he's got his little stuffed animal lamb. If we were at home, I'd be playing with him, that's why I'm so lucky. If I had to leave him at day care and go to work, I never would have finished this record."
"I thought I could maybe miss an amazing opportunity, and I think anybody in my position would do the same thing," she says. "I'm blessed with such an incredible guy."
It looks like Gwen made the right decision in putting out her album. The Sweet Escape debuted at number three on The Billboard 200! For more pics just read more